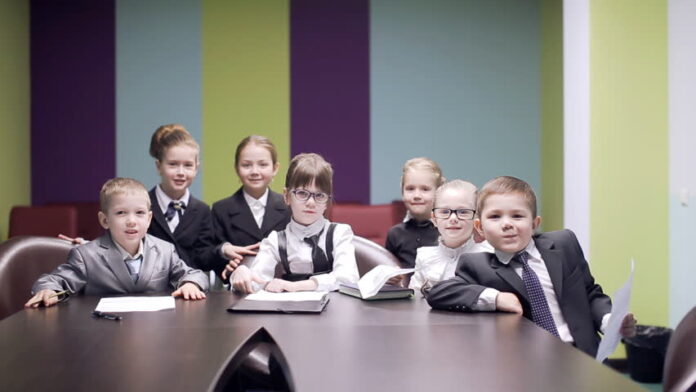 Learning never stops and well should not stop either. leats take the example of the Junior MBA course The more you learn the more you explore. The competitive era we strive in is constantly evolving with new technologies and terminologies where only the best ones survive. And to be in this cutthroat competition the preparation for it should begin from a very early point.
The more exposed you are to a particular environment the more in detail you learn about it. It's an era of expertise and ideas and that without a doubt comes from constant learning and implementation of those learnings.
We say education should have no barriers; it is a human's basic right and should be achieved no matter what. And therefore we see people of different ages explore learning wholeheartedly.
But can kids be counted on for a specialization program that has priorly been assumed to be accessed by grownups only? How do you react to an idea of your kid doing an MBA program? Did you just feel like logically not possible? Well, then hang on. What we have in stores for you and kids today will surely overwhelm you.
As already mentioned, the world we live in is constantly coming up with numerous innovative ideas. We are no longer in an era where basic 10+2+3 education is enough to excel in the career one wishes to. You need specialization in the particular field you wish to explore. And the sooner you get exposed to it the better.
Your kids when growing up should receive maximum constructive exposure. Such exposures help them understand things better, quicker, and smarter. With a vision to provide the utmost exposure to what kids should usually be getting; various EDtech platforms have come together and introduced one of the most discussed programs of the time called Junior MBA. This junior MBA course is for kids between the age group of 3 to 8. Kids of this age group are viewed as the most vital age group where you necessarily have to direct your kids towards the better and creative side of themselves. And the MBA course offered by numerous platforms does exactly the same.
Now we all tend to know what MBA stands for i.e. Masters in Business and Administration. We wonder if our kids are really at the stage of grasping such strong-headed terminologies? Well, they can be if the terminologies are introduced in a well-grasping manner.
The core reason for introducing your child to the program is the exposure and understanding that they will be receiving about the basics of business. Eventually, we need an era where we curate job creators and not job seekers. So this is surely going to mark one big step, we all have been wanting for so long. Wondering which platforms offer these Junior MBA courses in India? Well, we've got your back. As you progress through the article you will encounter the list of 10 best Junior MBA Courses in India that you can truly count and rely on.
Not only that you will have ample of benefits to explore when you get into the details of Junior MBA course offered by the platforms in India. So let us continue to scroll down and find out what the Junior MBA Courses in India has in stores for us and our kids.
Benefits of Junior MBA course From India
We all are aware of the fact that pursuing a Junior MBA course in India holds a lot of momentum and scope. MBA can step up one's marketability as a professional and increase their status and chances of receiving job opportunities. An MBA course helps in developing one's business and leadership skills. It also enhances an individual's analytical thoughts with long-term strategic thinking.
But, the course for Junior MBA is a little different from that of an actual MBA course. The Junior MBA course is dedicatedly designed for students who are studying in their 3rd to 8th standard. Any student who's willing to pursue their career in business and management in the future deserves to do a course on Junior MBA to have a look at the kind, of course, they can expect in the future.
This course gives a glimpse into the world of business and management to students and helps them to enhance their ability of analytical and strategic thinking. Throughout this course, students get to learn about entrepreneurship, market situation, and conflict resolution skills from top faculties.
What is a Junior MBA course?
The Junior MBA course isn't a course that the students are expected to pursue for years, just like an MBA. However, within a short period of time with this business program, students get to see the view of the working of corporations. Meanwhile, they get to learn about the entrepreneurial values of companies and startups and understand the ups and downs in the economy.
Apart from these important and basic benefits, there are certain skills associated with this course, that will give a boost to the student's intellectual skills, such as –
Ability to understand the current market situation-
Learning about the market situation will help the students pave their way through financial management.
This course will help them understand different situations like depression, recession, recovery, and boom.
This will fuel their interest in learning about the key areas of business and help them build a base for studying MBA in the future.
Increase their entrepreneurial skills-
Entrepreneurship and having entrepreneurial skills is defined as the ability to develop, organize, and run a business enterprise with bearing risk with proper management.
This course will add on to help students to be self-dependent and bring out their hidden abilities and talents.
This will enable them to decide their key interests and prior preferences.
Enhancing decision-making skills-
Proper management and decision-making skills are an integral part of human life and are very essential to be taught to students from an early age.
This course will help students learn how to make better decisions and help them learn through the lessons learned by professionals and entrepreneurs throughout their journey.
This course will help them analyze things critically and decrypt complex problems with their utmost interest.
Improving Creativity and Presentation skills-
Creativity is an integral part of life and innovation is known for boosting perceptions and changing the course of the world.
These are the essential needs of today's living and having to learn this skill from such a young age would truly be an honour to every child in this era.
While creativity is of utmost importance, the ability to present your ideas is equally essential. Thus this course is designed in a way that will help the students master the art of creativity as well as presentation.
Top 10 Junior MBA Courses in India
1. Henry Harvin Education Centre : Best Junior MBA Course for Teenengers
As we promised to offer you only the best institutions you can easily count and rely on. So here is our first mention that responsibly takes care of your child just like their own.
Henry Harvin Education centre has been an inspiration and one of the most sought-after platforms that offer unique and innovative courses at the most affordable rates with some really worthy benefits that help you shape your overall career.
Being named as the number one platform by various prestigious platforms it continues to excel every single day. The mentions it receives from the media platforms and in the forms, reviews speak volumes for the good work that it has constantly been doing.
What is even more exciting about the Henry Harvin Education centre is the inclusion of internships in the program. It helps you understand and achieve excellence with ease and having this experience, learners graduating from here excel in their respective careers.
Henry Harvin Education offers various courses related to various firms. Thus, this platform is for anyone and everyone who aspires to learn and excel. By now Henry Harvin Education has trained more than 300,000 learners and helped them acquire positions with their desired firms. The platform has spread its reach to over 7+ countries educating and exploring new opportunities.
Henry Harvin has partnered with 110+ colleges and 180+ corporations. It conducts more than 700 live classes every month and holds around 1,600+ Google reviews. The certifications you receive after the successful completion of the program is globally accepted and helps you acquire prestigious positions easily.
Junior MBA Course for Grade 3-8
This is your step towards preparing your kid to be the entrepreneur of tomorrow and trust us doing it with Henry Harvin Education is one proud choice.
The very first thing we as parents need to understand is that this MBA program is not just to enlighten the entrepreneur inside your child but the main root is to boost your child's confidence and the way he/she perceives things.
Having this program done will foster various values into your child like:
Positive Thinking
Self Confidence
Opportunities Identification
Responsibility
Creativity
Goal Setting and many many more.
Now let us take a step ahead and analyse how the overall program will eventually function.
The Junior MBA Course here is of 32 hours and will be in the form of an instructor-led live online class. One has to devote around 1.5 to 2 hours per class.
The trainers assisting your kids during the program hold the relevant experience and have strong hands-on concepts of CEOs, CFOs, CMOs, or CTOs. All these trainers come from extremely trained and experienced backgrounds helping and caring for your child in the best possible way.
After the successful completion of the program, your child will be presented with a certification that one can choose to flaunt and feel confident about the efforts and time invested in this career constructive program.
For all those parents out there who are still worried if this particular program is going to make it big or not. Do not worry about it. There are so many kids who responsibly took the program and today are doing far better as compared to the other kids of the same age.
For more detailed information you can head onto the website of Henry Harvin Education centre and get your queries best resolved.
Henry Harvin Education has its branches spread over Agra, Ahmedabad, Allahabad, Banglore, Bhopal, Kolkata, Nagpur, Noida, Pune, Mumbai and many more. So go ahead and explore now!
2. Clever Harvey : Top Junior MBA course Online
Clever Harvey is your number 2 spot that can win your trust and convince you to enroll your child for Junior MBA Course here. Clever Harvey is all dedicated and religiously working towards creating a learning platform that is not just accessible to adults but to the kids of today as well.
Here at Clever Harvey, the Junior MBA course compiles 25 sessions which further segments into 1 hour each. This means in total you will be having 25 sessions and each of them will be 1 hour long.
The learning here will be in a fun and interactive way. So if you are thinking your kids might lose interest then give up on it right away. Once your kid begins to get one-to-one with the terminologies introduced during the program he/she will be then indulged into practice sessions that will keep the learning spirit alive and progress in check.
Once your child is done with the practice sessions he/she will further move ahead and apply those teachings to solve a company challenge and finally if once done well your kid graduates and is now the recipient of Junior MBA Certification. Exciting isn't it? A proud moment for all the parents out there
The entire Junior MBA course costs for Rs. 15000/- only. For more detailed information you can head onto the website of Clever Harvey and get your queries best resolved.
Check: GST Course in India
3. Udemy : Best Junior MBA Course Online
Udemy never steps down the trend. It has always managed to be a people's platform and is doing it in an extremely responsible manner. Udemy offers various courses and for the ones who are aware of its platform can surely not deny it. One can find courses almost related to every major aspect here.
So when every other platform was continuously coming up with new and unique courses how could Udemy not contribute. Therefore it too has the most talked Junior MBA course on its platform that does justice to learners enrolling in every single way.
Few terms that your kids will be made one to one during the Junior MBA Course tenure are:
Entrepreneurship
Start-up
Business Administration
Management & Leadership
Global Business Skills in English
Marketing Strategy and many more.
The overall program is of 6.5 hours that consists of 1 article and 9 downloadable resources. Once enrolled on the program you will be having full lifetime access. You can easily access these materials using any simple mobile or TV.
After the successful completion of the course, you will be awarded with a certification of completion which will be an assurity of the time, effort and learning explored and contributed here.
The Junior MBA Course at Udemy is named as Mini MBA Course for Entrepreneurs with a rating of 4.7 stars. The cost of the course is Rs. 1,280 only.
For more detailed information you can head onto the platform of Udemy and get your details sorted easily.
4. Adventure Education Tours : Junior MBA Centre Online
Adventure Education Tours is your next halt for the top Junior MBA Course in India. The platform has some really noteworthy programs to offer the little potential kids of today. By far now AET has trained more than 40,000 students and has successfully helped them feel confident and motivated in every sense.
The platform of AET has spread its reach to more than 15 countries and has managed to stay in the business for about 5 years now.
The new batches for the programs at Adventure Education Tours begin every Monday. The fees for the programs are currently available at discounted rates due to the ongoing pandemic. So you can avail the benefit too.
By enrolling on the Junior MBA Course at Adventure Education Tours will have various advantages to avail. A few of them are listed below:
Opportunity to learn critical skills of a CEO, CTO or CMO.
The program is by IIM and Ivy League Alumni that helps you build real-world skills.
Understanding of strategies and thought processes that successful firms use to excel in their respective fields.
For more detailed information you can head onto the website of Adventure Education Tours and get the required information best accessed.
5. Parentof : Junior MBA Training in india
Parentof is one solid base platform that understands your kid's way of growing and grasping. And therefore it makes learning a lot easier for them. Parent offers a Junior MBA: Projects Based Learning for Kids who are keen to learn and explore new things.
During your Junior MBA program tenure, you will be exposed to numerous live and interactive classes that will help your child to learn 80+ essential skills at such a constructive age. Your kids will also seek opportunities to interact with world-renowned and accomplished mentors from ISRO and IAS space.
Experts guiding your kids here will walk your kids through all minute to major details and will responsibly also aware them about tackling errors and finding the right solutions.
Your kid as a learner here will Discover a lot of aspects about himself/herself, then will develop a few essential ones and finally will then transform into a proud individual with self-confidence and talent.
Wondering what your kids might achieve after the mastery of the Junior MBA Course here? Here's everything you need to know.
Effective Cognitive Development
Effective fine and gross motor skills
Strong social and collaborative skills
Interpersonal communication skills
Emotional intelligence and a lot more.
For more detailed information you can check their website and get your little one enrolled right away.
6. Born Preneur : Junior MBA Course Online
Born Preneur is another fantastic platform to invest in for your kids' bright future. The platform has some truly mesmerizing programs for kids to learn and explore in the best possible way under the best guidance ever possible.
The platform offers 3 Major courses based on the age groups. They are:
BornProdigy ( 8-11 years )
BornToHire ( 11-14 years )
BornCEO ( 14-17 years )
You can choose the best for your kid and begin to explore the very moment itself. These programs are specifically designed for children to feel confident and utilize the maximum of their abilities in order to create the best.
The 3 main pillars of having your kid enrolled on the program are Opportunity, Innovation, and Career. Being an entrepreneur altogether opens a completely new world for an individual and acknowledging and understanding it is equally vital. Further, your little ones will learn to innovate and implement daily tasks that will help them analyze and understand their strengths and weaknesses which further will help them build a rock-solid career.
For more detailed information you can head onto the website of Born Preneur and get your best Junior MBA program accessed for your little ones.
7. Pragya Academy : Best Junior MBA Training Online
Making it to the 7th spot on our list of best junior MBA Courses in India is Pragya Academy. The academy truly adds some reliable pinch of learning to our little ones. The program is for 2 months and is made available to the learner at the best possible rate. As a special offer, you get assured of 100% Money-Back if in case you do not seem to be satisfied with the way the course is conducted in the first few sessions.
Enrollment for the program comes with numerous other benefits too. As compared to the other similar platforms Pragya Academy likes to keep its course rate affordable and accessible to all the young learners out there. The curriculum your kids will be going through is extremely well-refined and comes from the best source of information and is inclusive to all major to minor industry updates.
The trainers assisting you here come from well-trained and experienced backgrounds to ensure no quality hindrance to the learnings offered here. The reason why Pragya Academy is one of the most reliable junior MBA course providing platforms in India is that it admits only 10 to 15 kids per batch. So that constructive focus could be shared with every individual attending the class.
For more detailed information you can head onto the website of Pragya Academy and get your junior enrolled for the MBA program.
8. The Junior MBA :
The platform of Junior MBA offers a reliable MBA program too. The program offered here is a 12-week long program and is conducted entirely online. The curriculum of the course is well refined and has been selected after careful observations so that only the best content reaches to the young little minds.
The age range enrolling for the program has to be somewhere around 12-18 years. It is open to younger students as well. If they desire to enrol they surely can.
The Junior MBA course offered here compiles all the necessary elements that the learners should be briefed with for a bright and compelling future. To keep your little ones' progress in check they will be introduced to various activities and assignments.
The modules of the program will include the following mentioned aspects:-
Introduction to the Junior MBA
Business Innovation
Testing Business Ideas
Strategy and Business Fundamental
Leadership and many many more.
For more detailed information please head onto their website and get your queries best assisted.
Metamorphosis School of Entrepreneurship
When looking for top Junior MBA Courses in India you just can't miss the enormous platform created by Metamorphosis School of Entrepreneurship. This is one place where learning meets fun and exploration under the guidance and supervision of the best.
The academy is solely dedicated to creating young entrepreneurs and not just creating but guiding them to excel in their respective fields of choice too. When enrolling on the program here you will be learning numerous aspects of Entrepreneurship. A few of them are mentioned below:
Problem Solving & Decision Making
Failure Management & Risk Taking
Creativity & Innovation
Business World Quotient
Personality Development
Public Speaking Skills and many more.
The program is for 24 Weeks wherein you will be requested to contribute 2 hours per week. The sessions will be delivered to you in a live manner. As an enroller with the platform you get free access to the following listed aspects:
Personalised Resume of the future website
Lifetime FREE access to student engagement community
Dedicated student success manager for your career support
Alumni Status by Metamorphosis school of entrepreneurship
For more detailed information head onto the link of the website and get your queries best assisted.
10. Arcadia : Best institute for Junior MBA course
Transform your Kid's career with Arcadia junior MBA program. Take the next step in advancing their learning with new skills by the best world-class learning experience.
This Junior MBA programme is a 12-week programme designed to deliver an MBA style curriculum to primary school students. The essence of the programme is to deliver MBA modules to students aged from 6-11 years old.
The end goal of this Junior MBA Course is: To encourage students to think critically and allow them to have a bigger perspective area and provide basic financial literacy skills to students. To encourage collaboration among students, provide them opportunities to learn through talk and to talk in accordance with the Oracy Framework and boost their confidence and self-esteem.
This Junior MBA course is designed and tailored accordingly so that it is easily comprehensible for the younger generations. The delivery and level of complexity of this course are curated according to the age group being attended to.
The core topics covered are:
Entrepreneurship
Marketing
Finance
Accounting
For more detailed information head onto their website and get your queries best resolved.
Why a Junior MBA program?
Management is a very prime and basic part of our life which is needed at every step from early childhood to adulting. Thus this course aims to provide management skills with a touch of professional experience and scope from an early age to the aspiring students.
This course allows a student to think critically with loads of creative freedom. The amount of exposure that this course provides is an essential need in today's prime scenario.
A lot of professionals sometimes feel it is too late for them to start their own business or career in corporate after building a career in a different stream. And a very basic reason that they give for not being able to start their career in business or management, is due to lack of exposure from an early age. But we don't want our kids to face the same problems in the future, right? These were the reasons why doing a junior MBA course will be worth it.
Final Words:-
Well, now we hope a lot of your queries here get resolved. From keeping you in the loop regarding what you could expect in the Junior MBA course to some of the best Junior MBA Courses in India; we have got all pretty much sorted and covered. Finding a reliable institution can be really stressful but not when you have the best team working by your side.
Now that you have the list of best Junior MBA Courses in India go ahead and explore the best for your little one.
We hope this piece of information helped you answer your questions effectively. If in case you still have any queries or confusion please feel free to voice them using the comment section below. We will be more than happy to help you with the best knowledge available on the same.
FAQ
1. Where can I find the best Junior MBA course in India?
Ans. Henry Harvin's junior MBA program is considered one of the best courses in India. The trainers at Henry Harvin are professionals and adept in imparting knowledge to the students. Trainers provide regular feedback on every assignment given by them.
2. How long is a Junior MBA program in India?
Ans. A Junior MBA program is an all-inclusive 2-month long industry-oriented program that not only focuses on theory but also practical. It also exposes students to internship programs.
3. What will my child gain by doing the Junior
MBA program?
Ans. It aims to help young students gain the basic knowledge of Business so that they can emerge as successful entrepreneurs in the future.
4. What are the skills that this program will develop in my child?
Ans. The Junior MBA program helps to develop entrepreneurial skills in students. They learn skills like analyzing, strategic thinking, problem-solving, decision-making, and persuasive communication in this course.
5. Will doing this program help my child in her day-to-day life?
Ans. Yes, of course. After doing this program your child will become more organized and planned.