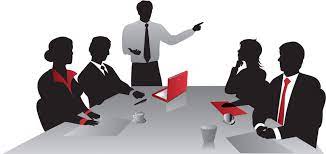 Corporate Training is a tactic adopted by organizations worldwide to upskill their employees for developing a sturdy workforce. But, what are the various important Corporate training courses available? The simplest answer to this question is this blog where I'll walk you through the 8 significant Corporate Training courses every employee should take. The Human Resource Management in an organization oversees the corporate Training of its employees.
But, why should the employees take a corporate training course? Aren't they already educationally qualified for the job?
Yes, they are educationally qualified for the job, but the skills they need to beget success in various organizational activities transpire through skill training, which is what corporate training is all about. Once trained an employee can meet the objectives a zillion times better than without training.
Let us now look into the various corporate training courses available.
8 Corporate Training Courses every employee should take
1. Leadership Training– corporate training program for employees
A good team in any department in an organization craves a good leader. Moreover, The leader is responsible for keeping the team together through authority, communication, flexibility, encouraging strategic thinking, etc These qualities can be developed and projected through Leadership training courses. These corporate training courses on leadership skills teach you the different styles of leadership. Today's team member may be tomorrow's team leader if you know how to play it.
Emotional Intelligence plays a huge role in leading a team to success. If you can harness your inner strengths and use them to influence others, then you can motivate and inspire others.
2. Project Management Training-8 corporate training classes every employee should take.
Project Managers steer a team for a particular project and ensure successful completion. But, these project management skills are a lot more than just managing projects. Also, It involves planning, team building, managing stakeholders, planning and governing budgets, and much more.
In addition to these, there are always risks associated with projects. So, Project Managers should foresee these risks and manage them with the help of the project team. Project Management Training is one of the most sought-after among the 8 Corporate Training courses every employee should take. The Project Management Institute ( PMI) conducts the PMP Certification Exam for validating the Project Management skills as well. You can look up the top 7 PMP Certification training courses in India.
3. Technical Skill Enhancement Training
We all know that the arena of technology is snowballing, even as we speak. As a result, This calls for more and improved skills in technology to get a strong grip on your job. Technical Enhancement training is a form of Corporate training that enables a working professional to bag the newest tools and techniques as applied to their line of work.
As an example, at the beginning of the digital era, when the banks were computerized, the employees took computer training courses to be job-competent. There are various Technical Skills enhancement corporate Training classes like
Billing, Accounting, and taxation-related courses

Software as a Service training (SaaS)

Enterprise Resource Planning (ERP).

DataScience

Coding, etc.
4. Time Management Training
Another soft skill development course among the top 8 corporate training courses is the Time Management training course. Time is an imperative entity in a highly competitive environment like the corporate world because the employees are bound to finish any project or undertaking within the desired timeframe.
Time Management corporate training certification help the employees effectively manage time to meet the deadline. Below are a few of the time management training given to employees : 
Plan the time for completing the task.

No multitasking.

Turn your back on distractions.

Keep the Call-to-action ready.

Prioritize your work, and so on.
5. Client Sustenance training- 8 corporate training Certification every employee should take.
Client Sustenance, or in other words, customer support skills is necessary for each employee in an organization as customers/clients are regarded as the king in any business. Persuasion, Optimism, empathy, adaptability, and patience are a few of the qualities that any employee must acquire to please a customer.
Training and experience help cultivate these skills unless owned. Besides, Most corporate training courses help the employees to embrace these skills through sessions and case studies. Excellent customer service leads to satisfied customers which leads to word-of-mouth advertising.
6. Stress Management
Projects involve timelines and managing a team's work effectively. Consequently, in most cases, this along with risk factors lead to stress and anxiety. A good leader and the team members should not subjugate themselves to the apparent stress. Furthermore, many Corporate Training techniques help develop Stress Management skills.
This involves identifying the signs of mental chaos and stress in the working environment. These stress management training sessions also impart the methods of offering support to employees in distress, thereby creating a conducive working environment for all.
7. Employee Engagement
Employee engagement is an integral part of escalating the productivity of the workforce. Also, Overpowering the employees may lead to a conflict of interests and this, in turn, affects the organization's deliverance. So, it is very important to keep the employees engaged through various methods. Long hours of work and poor outcomes don't promote employee engagement. So, Organizations use many strategies and tools worldwide to engage their employees.
Corporate Training courses in Employee Engagement give a comprehensive understanding of these methods and tools. However, We can see a trend of a 2-3% increase in yield in organizations that follow employee engagement strategies.
8. Dynamic Communication Training- 8 corporate training courses every employee should take.
Interaction among the team members requires exceptional communication skills. It is not enough to be an expert in the subject matter, but understanding, respect, obligation, etc are needs of the time to create a friendly yet proactive working atmosphere. The foundation for all the other skills acquired in this branch of corporate training. There is communication within and outside an organization to improve interpersonal relations.
Thoughtful questions, persuasive messages, when to compete and when to cooperate, etc are a few of the skills you learn during this corporate training course. Since communication is an inevitable part of any workspace, this course is most relevant among the list of 8 corporate training courses every employee should take.
Let us now look into the upsides of corporate training courses.
Upsides of Corporate training Classes
Corporate training courses customize the training to curry the desired skills in employees through training and exposure to actualities. In reality, most organizations employ a limited workforce with exceptional qualifications. But, efficacy is not confined to qualifications alone. The famous quote by Harrison Ford
"The only thing worse than training your employees and having them leave is not training them and having them stay.
Implies the importance of corporate training courses.  A dexterous employee is skilled and proficient in the subject at the same time. So, corporate training is highly beneficial for the employees to retain their position as well as advance in their careers. Following are the major benefits of corporate training classes:
Add new skills to the organization through specific training courses.

Secondly,

Employee motivation

Increased brand value

Tax savings

Ensure compliance and ethics

Understand professional as well as social causes better.

Knowledge sharing wherein experienced and senior employees share their skills and understandings in the domain. This also reduces attrition in the organization.
A few of the corporate training companies and courses: 8 corporate training certification every employee should take.
NIIT Limited

TTi Global

Indus Management

Manpower Group

Novo Consulting
Conclusion
Corporate Training courses are curated to impart relevant skills as applicable to the line of work in an organization. And in short, the employees in an organization play a pragmatic role in its yield. The above list of 8 corporate training courses every employee should take is a snippet of the various corporate training programs available online as well as offline. These courses are aligned with the standards of skillset that each organization covets. Hence, a proper understanding of the skills and courses would help build a cast-iron workforce and a benignant workspace.
Also Read:
FAQ- 8 corporate training courses every employee should take
How do I get corporate training done?
Ans: There are many corporate training courses to gain in the direction of the skills described in the list of 8 corporate training certificate every employee should take. Hence, You can select the skillset and look for the best courses available in that domain.
What is the budget for corporate training courses?
Ans: Most big organizations provide 2 -5 % salary budgets for training employees.
Can I do a Corporate training course online?
Ans: Yes, there are many corporate training courses available online. You can the best one that suits you.
Can I become a freelance corporate trainer?
Ans: Yes, you can become a freelance corporate trainer. For instance, There are online client hunting sites where you can apply to get freelance gigs.
What is the most effective corporate training method?
Ans: Many corporate training methods are effective like case studies, Internships, hackathons, Game-based learning, Lecture, Job shadowing, etc.