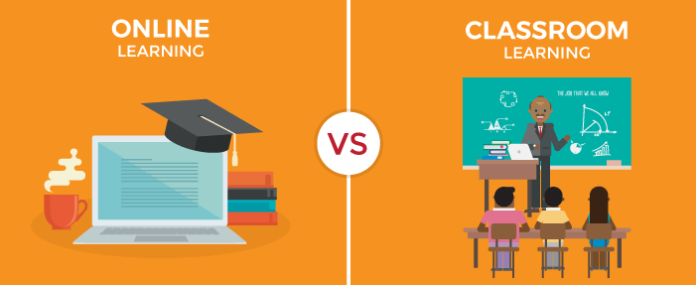 The definition and purpose of Learning depend on the perspective of a person. You find a multitude of definitions for learning when you search for it. Nonetheless, Learning is defined generally as the process of gaining knowledge, developing various skills, attitudes, and so on. The onrush of technology brought about new, innovative and improved ways of learning. On top of that, the pandemic paved the way for many virtual classrooms. As a result, there came a seismic shift from classroom learning to online learning. There are many differences between the two but here I am going to highlight the 10 differences between Online Learning and Classroom Learning.
Why are there differences between Online Learning and Classroom learning?
Differences between Online learning and Classroom learning arise from different modus operandi used by these ways of learning. To fathom this difference, let me first define Online learning and Classroom Learning briefly as follows:
Classroom learning
The name hints that Classroom learning is the type of learning that takes place within the physical bounds of a classroom. A teacher, who is physically present in the classroom gives the lessons while the students, who are also physically present take those lessons. Schools, colleges, etc are examples.
Online Learning
Elearning, Distance learning are both synonyms of online learning. This is the most contemporary form of learning where anyone from anywhere can learn and teach, even from the comfort of your home. Many online courses are available these days wherein diverse tools are used to teach and learn. As an example, check out the online courses for digital marketing in India.
While we can tot up the fors and againsts in the case of Online learning and Classroom learning, both render the same goal, i.e education.
Differences between Online learning and Classroom learning
Physical Interaction
Classroom Learning aids in the apparent physical interaction among the learners and tutor as well. This in turn helps in building a mentor-mentee relationship between the learners and the teachers. Moreover, these relationships are real-time. The result is it helps in developing a sync among the individuals through various in-room activities and assignments. Making friends and social interactions are the luxury that comes with Classroom learning.
Contrastingly, Online learning does not promote any kind of physical interaction. So, there is a limited connection being developed during online learning. The result here is always a dearth in the mentor-mentee relationship. But emails, chats, webinars are a few of the interactive techniques in Online learning.
# Funfact- Remember throwing paper balls at your classmates and getting scolded by your teachers! I know many can correlate to this!
Hardware
Classroom learning demands very little hardware, limited to a blackboard and some stationery, to be precise. A teacher takes the classes in a classroom in different styles like Visual, Aural, Physical, Verbal, Logical, Interpersonal, and so on. Even the Interpersonal or Solitary method is also an available option in Classroom Learning. But what comes with this is the need for proper infrastructure.
Online learning, on the other hand, necessitates basic hardware requirements like the laptop/desktop, internet connection, etc to facilitate the learning process. All the assignments and homework need to be submitted virtually and this calls for the proper knowledge of the tools of the trade and has to update these from time to time.
# Funfact- The teacher throwing dusters and chalks at you for not attending the class!
Time
Time restrictions are associated with Classroom learning in two ways. For one, Schools and colleges follow stringent working hours and all the activities happen only during this time. Secondly, it takes time to reach the destination for classroom learning, and commuting time cannot be made productive in any way. But again this time is the time we travel and spend with our friends and fellows and aids in building social connections.
Timing is flexible in the Online learning process. Anyone can learn anything from anywhere at any time is the major advantage of online learning. For example, you can learn about artificial intelligence from the comfort of your home and very experienced instructors at any time of your choice.
#Funfact- Getting late to school and the teacher punishing you by making you stand outside the class.
Cost of Learning
Classroom learning comes with tuition fees, infrastructure fees, and miscellaneous fees and amounts to a huge sum when it comes to good colleges. Moreover, each school or college has its fee grading system. For example, if there are multiple playgrounds and sports activities included in a course curriculum, these amenities carry fees that get reflected in the overall course fees. On top of that, the money spent on commuting is another factor that contributes to the spiraling fees.
Online learning is more cost-effective, though it doesn't come cheap. A good online course from a good institute is worth the money invested. And the money spent on commuting is zero. Online learning is considered more affordable when it comes to high-grade education.
Learning Materials
Classroom learning limits the availability of the learning materials to the time available at the institution. Furthermore, there is a need to be physically present to access the materials from the library. So, this is a limitation for some, especially working professionals. In some cases, there can be restrictions to take the material home for further reference.
Online learning permits the usage of learning materials like assignments, recorded sessions, podcasts, module contents, etc, mostly available online, anytime, and from anywhere. This flexibility ensures that you always remain in sync with the course. Many online courses on the postgraduate level offer instructor's assistance through skype, emails, etc.
Limbering up
Classroom learning doesn't emphasize providing the necessary hands-on experience. This in turn affects adversely in limbering up the learner before stepping into real-time projects. In short, there are meager practice settings in classroom learning, and learning by doing is not necessarily an essential part of classroom learning.
Most online learning and courses offer more practice sessions to upskill their learners thus helping them get cutting-edge confidence in the subject. A variety of tools and apps help render this possibility so that the learner gets a deep understanding of the subject. Math puzzles, logic puzzles, etc are a few examples that help practice what one learns immediately.
Location
All the classroom learning places are not at convenient locations, particularly colleges and universities offering higher education. As a result, most colleges give accommodation facilities and hostels for their students. In the case of schools, many children travel long distances to reach the school. Furthermore, the infrastructure for these institutions demands a large area which in turn results in remote locations whereas we find many schools and colleges close to the heart of the city too.
Online learning doesn't need any hard and fast location needs. Online learning can be done anywhere, even in the comfort of your home or just say a playground. The only thing needed is a good internet connection and a laptop. You have both, you are good to go.
Array of courses
Classroom learning follows the traditional methods of teaching and learning which results in the narrow range of courses they offer. Classroom learning is most times, oblivious to updating of various tools and techniques followed in the teaching process. This results in a lesser number of courses they offer. Nonetheless, there are many courses, especially psychology and medicine which impels the need for classroom learning.
Online learning is a contemporary method and so diverse courses in many fields can be done through this method. Higher studies or skill development courses or anything of the kind, you desire and it's available with a click of the mouse. You can choose from a wide array of courses according to your requirements and needs.
Motivation
Classroom learning helps in instilling motivation and brings an overall discipline in the learning process. Interaction in classroom learning helps build a healthy competition among the learners. On top of that various debates and discussions help in creating an idea pool wherein all the learners benefit the most.
Online learning has limited discussion forums, though many online courses emphasize the more active participation of the learners, even virtually. Even more to this, mastering the subject through online learning is a more like 'do it yourself process. In other words, the more self-motivated you are, the more you will benefit from online learning.
Evaluation methods
Classroom learning follows the traditional method of evaluation through exams and viva. The learner has to be physically present on the occasion of evaluation and this helps in regulating and controlling the flaws in an evaluation process. But the pandemic has brought about unwarranted changes in the whole evaluation process followed by Classroom learning. As a consequence, these days online exams are more prevalent than the traditional methods.
Online Learning follows a strategic evaluation process like assignments, projects, etc all of which can be submitted online within the timeframe. This is a consistent and well-established modus operandi for the evaluation process in the field of online learning.
Why a sudden boom in Online learning?
Classroom learning is the most preferred mode of learning when it comes to lower classes or more like school ages. But, Corona Pandemic and the lockdown put a spell on the otherwise smooth-flowing system of classroom learning.
The process of learning must go on as the famous words of Albert Einstein say" Once you stop learning, you start dying". So with the fourth industrial revolution, i.e the Digital Revolution, the process of learning continued even during pandemic through Online learning.
The boom in Online Learning is the result of the advancement of technology and the development of newer and improved tools and techniques employed. A broader range of courses also contributed to this upsurge in the demand for Online Learning.
Opportunities from Classroom learning and Online learning
Classroom learning and online learning creates and cater to various opportunities at various levels. Classroom learning and Online learning provide countless opportunities in multiple domains be it in the field of Engineering Medicine Architecture or even Education. The operation and approach of both the ways of learning are different, but both classroom learning and Online learning result in upskilling and nurturing the learners.
Examples
Classroom learning offers courses from the nursery level to higher studies level like postgraduate courses and doctoral courses. Many schools have provisions ranging from kindergarten to Class 12 or High school. But online learning offers a vast pool of courses from upskilling to many certificates and diploma courses. As an example, Henry Harvin's content writing course is an online certificate course that certifies you as a digital content creator. One other example is the Six Sigma Green belt course which certifies you as a Six sigma green belt professional.
Types of Online learning
There are four main types of online learning
TEC Tech Enhanced Courses: These types use technology as a medium to instruct the learners. They put into service the LMS or the Learning Management System wherein the learners can access all the study materials and the recorded videos of the lectures.

Fully Online Classes: They are complete online using both asynchronous and synchronous tools.

MNF2F: Minimal Face to Face classes. These are more close to the self-paced style of teaching with very little interaction.

HBYR: Hybrid classes which inculcate both online and offline methodologies. These days this is a common practice to emulsify traditional classroom learning with Online learning depending on the pandemic situation.
Quick stats to depict the difference between Online learning and Classroom learning
Online Learning
Online learning is rapidly gaining popularity as the melioration factors score better as compared to Classroom learning. Moreover, the Corona pandemic and the apparent Covid waves materialized the need for new and improvised methods of learning. The Government of India has approved 900 autonomous colleges to offer remote learning opportunities. By 2026, the Indian online Education market is predicted to be worth $ 8.6 billion. There is a 10% increase in students enrolling for online courses and 41.6% of people adopting this are aged 30 and above. The companies seek online training methods for the compliance training of their employees.
Classroom learning
Classroom learning is the unalterable practice for children attending primary classes to high schools. The total number of primary schools in India is ).66 million and secondary and senior secondary schools are 0.13 million. Globally, 1.2 billion children were affected by the school closure though data shows that children retain more in online learning as compared to Classroom learning. But the new normal has facilitated the return of classroom learning in many countries by following a proper protocol.
List of prominent Ed-tech institutes for Online learning
Henry Harvin

Udemy

Coursera

Edx

Byju

Whitehat education

Unacademy

Upgrad

Vedantu

Great Learning

CollegeDunia

Brainly
Conclusion
There are manifold differences between Online Learning and Classroom learning. To be precise, Online Learning is the antonym of classroom learning.
Each method follows a different route when it comes to the way of teaching, and learning. The difference between online learning and classroom learning doesn't gauge one above the other. Both the methods have pros and cons as elaborated above.
But there is increasing popularity of Online learning and it portrays itself as the inevitable future in the education domain. Whist Classroom learning promotes the holistic growth of an individual, online learning helps in gaining knowledge of anything at any time from anywhere in the world.
Frequently Asked Questions
Online learning or classroom learning, which is better?
As explained above though there are differences between online learning and classroom learning, each has its pros and cons.
Will Online learning replace classroom learning in the future?
Online learning has its advantages, but it cannot completely replace Classroom learning.
Is there anything common in online learning and classroom learning?
Most of the features are different in Online learning and classroom learning, but both work towards the same goal- Educating people.
Are there degrees online available in India?
Yes, There are online accredited degrees in India. With an accreditation rating above 3.26, a university can offer online degrees.
Do IITs have online courses?
Many IITs are offering short-term online courses. You can their websites and SWAYAM platform where many short-term online courses are available.