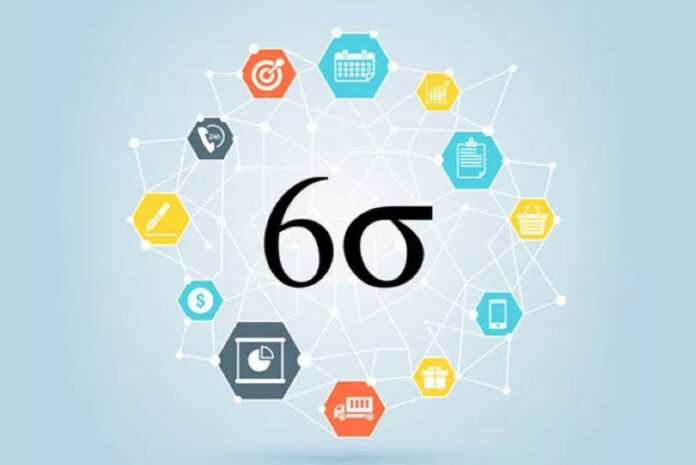 Six Sigma is a set of tools and techniques used by companies to improve production processes, eliminate defects, and guarantee quality. The Lean Six Sigma Certification helps to validate skilled professionals who are capable of finding risks, errors, or defects in business processes and removing them.
Six Sigma is a set of quality management techniques and tools developed in the 1980s. These techniques were adopted by American corporations, including General Electric. The development of the Six Sigma system is credited to Bill Smith, a Motorola engineer, and the name was trademarked by Motorola in 1993.
Six Sigma is a set of quality management techniques and tools that have been widely adopted by American corporations.
Six Sigma originated as a method of minimizing errors or defects in manufacturing processes.
It has an influence on management practices in the U.S. And abroad.
The majority of the Six Sigma Courses are available online on different training websites.
Primary Certifications:
White Belt: free
Green Belt: Rs 17,500
Black Belt: Rs 29,500
Advanced Certifications
The advanced certification online cost is Rs 7500
Six Sigma Certification is a verification of an individual command over the well-regarded method of professional skills development. Certification Six Sigma is awarded at levels like in Karate training. These three levels are:
A White belt is awarded for completion of an entry-level overview.
A Yellow belt is awarded for assisting a project at a practical level.
A Green belt is awarded for learning the principles of Six Sigma and implementing them under the guidance of a black belt.
A black belt plans and executes projects using Six Sigma principles.
A master black belt manages the implementation of Six Sigma projects across functions.
A champion is an upper-level executive who is responsible for the implementation of Six Sigma across all departments
The belt awarded with Six Sigma certification is relevant to the position in the business the employee occupies within an organization. They are earned through practical experience as well as course-based training.
There is no standard Six Sigma curriculum. Six Sigma Programs are offered in
Many colleges
Online
On-campus
In-house by many corporations
Benefits of Six Sigma Certification
Increase in Profit: As a result of eliminating waste and improving the quality of production, Lean Six Sigma reduces costs for organizations and increase profitability. General Electric reportedly experienced profit-cost savings exceeding $2 billion.
Standardized and Simplified Processes: Lean Six Sigma eliminates wastes in processes and unnecessary steps to streamline production. The processes are simplified so that they are easier to follow and less likely to lead to error. The simplified process will also reduce time, leading to a decrease in overhead costs.
Decrease in error: With the simplification in process steps and a detailed investigation into the main causes of error and waste in the organization, Lean Six Sigma drastically reduces errors such as defects and miscalculations.
Employee Performance/Development: Lean Six Sigma stresses the importance of the ideas and observances of individual employees to the overall success of an organization. With Lean Six Sigma, the feeling of self-importance and significance increases among employees and leads to an increase in motivation and better job performance.
Value to Customer: Lean Six Sigma allows companies to improve their processes and the quality of their products. In turn, they are able to produce more products at a cheaper price with less error. Customer satisfaction will increase, which will then lead to an increase in customer loyalty.
Six Sigma certification at Henry Harvin
Henry Harvin is a leading career and competency development organization with a focus on value creation. Henry Harvin Ranks No.1 for Six Sigma Certification Course by Best Course News, Business Standard & Tribune India.
Henry Harvin's Six Sigma Certification Course is very comprehensive and provides practical experience with hands-on experience with a number of projects.
Henry Harvin Education has bagged the title of the Best Corporate training Platform in the recently concluded Entrepreneur Education Innovation Awards.
Under Six Sigma certification, Henry Harvin has three courses to offer:
Six Sigma Green Belt
Six Sigma Black Belt
Six Sigma Master Black Belt
Lean Six Sigma Green Belt Course
The Six Sigma Green Belt Certification cost by HH is Rs 17,500 to its non-members and its members. certification in two ways: –
The fundamental Six Sigma Green Belt cost credential
Level 2 Green Belt Credential for the specialists who want to improve their skill sets further at this particular rank.
Lean six sigma course is for professionals who want to pursue Quality Management as a career or want to master the continuous improvement frameworks and six sigma frameworks.
The Lean Six Sigma Green Belt Certification will equip the candidates with the knowledge of tool methodology in Six Sigma which will help them to enhance the business projects, performance, and overall quality.
On average, This six sigma certification course of Henry Harvin is a 28 hour interactive live session with trained professionals. Hands-on practical experience provided.
Six Sigma Green Belt Certification has no recertification requirements. It is a lifetime certification.
Green Belt training and certification course allow the creation of charts, process maps, and control plans to describe Six Sigma roles within an organization, use statistical tests to improve processes, use Minitab to run statistical tests, and define a Six Sigma project.
The Key Features of this course are:
28 hours of live online interactive sessions.
Hands-on projects in DMAIC Phases, Lean & Six Sigma, and more
Internship program over the course to give practical experience of learning
Get a Hallmark Certificate of CSSE-GB from Henry Harvin, Govt of India recognized & Award-Winning Institute
Placement Guarantee
E-learning abundant tools
Regular Bootcamps
Free Access to Hackathons and Competitions
Get 1-Year Gold Membership of Henry Harvin Management Academy for the Lean Six Sigma Green Belt Course Course
In order to implement Lean Six Sigma, a combination of tools from both lean manufacturing and Six Sigma are necessary. Some of these tools include value-stream mapping, line balancing, and visual management.
Benefits of Green Belt Six Sigma Certification are:
Eligible for more jobs
Certified Six Sigma professionals are eligible for jobs demanding analytical background
Job opportunities abroad
The certification provides job opportunities abroad demanding specialization.
Improve LinkedIn profile
The certification gives an improved CV and LinkedIn profile with a globally recognized certification.
4. Highly valued skill-set
The Six Sigma Certification is a highly valued skill as far as Job is concerned
5. Helps in providing high-quality products and services
5+ Projects covered
Quality of Work Life in an Organization of Employees
Improve Total time & Rolled Throughput Yield
Optimization of Average call times in a BPO-Voice Process
Defect Reduction in Die Casting
Improving Internal SQR in XXM Activities
The various modules covered in Henry Harvin's Six Sigma Green Belt Certification are:
Evaluation and Introduction to Six Sigma:
This module gives an introduction to the Lean Six Sigma course. The introduction of Lean Six Sigma gives employers hope to change the mindset of employees to one that focuses on growth and continuous improvement through process optimization.
Define
Lean Six Sigma is a synergized managerial concept of Lean and Six Sigma. Lean traditionally focuses on the elimination of the eight kinds of waste classified as
Defects
Over-production
Waiting
Non-utilized talent,
Transportation
Inventory
Motion
Extra-processing
Six Sigma seeks to improve the quality of process outputs by identifying and removing the causes of defects and minimizing variability in manufacturing and business processes.
Measure
Lean Six Sigma uses the DMAIC phases similar to that of Six Sigma. The five phases include Define, Measure, Analyze, Improve, and Control. The five phases used in Lean Six Sigma are aimed to identify the root cause of inefficiencies and work with any process, product, or service that has a large amount of data or measurable characteristics available. The DMAIC toolkit of Lean Six Sigma comprises all the Lean and Six Sigma tools.
Analyze
This module in Six Sigma Certification aims at analyzing various defects(errors). The proper procedure is followed to fix the errors.
Improve
The skill-set in Six Sigma certification reflects elements and other process methods like the theory of constraints (TOC) and Total Productive Maintenance (TPM)
Control
This module guides in maintaining consistency in the methods adopted for the improvement of the production.
Two complimentary modules are added
Soft Skills Development
Resume Writing
Lean Six Sigma Green Belt Certification at Henry Harvin is a four-step process:
The first step for joining the course requires enrolling for the course by contacting the relationship manager at Henry Harvin.
Attending Six Sigma Green Belt Classes
Attend classes of the Six Sigma Certification Course to get credits to be eligible for the certification. View session recordings in case missed.
Giving Six Sigma Green Belt Exam
Deliver the mini-projects that are assigned during the training sessions of the Six Sigma Green Belt Certification course.
Earn Six Sigma Green Belt Certification
Post completion, get CSSE Six Sigma Green Belt certification from Henry Harvin. Post it on social media and apply for internships, placements, and other freelancing projects.
Lean Six Sigma black belt course
Black belts are specialists and advocates of innovation. They can lead various project teams and manage individuals of Yellow and Green Belt holders who are contributing to the project. They will be responsible for managing the entire lifecycle of the process with high accountability. Once professionals or an individual attain this level, they can act as a principal consultant to the project team members and can become a crucial shareholder of the organization.
Six Sigma Master Black Belt is an Advanced Level of Certification. This six sigma certification course is 36 hours of a live online interactive session with 100% placement guarantee support for a year.
Master Black Belts are those professionals who are responsible for the strategic development of Six Sigma within an organization and an expert in the entire Six Sigma Body of Knowledge.
They are responsible for providing mentorship and support to the Black belt, Green belt, and other team members to use the improvement tools for specific problems.
The candidate should have experience of 4-6 years of business; have Black Belt experiences, mastery of tools of Six Sigma process improvement (DMAIC), Design for Six Sigma (DFSS), and Lean.
For the course, both online and offline courses are available with different durations for the course.
After successfully completing the course, the national average salary of Six Sigma Master Black Belt usually ranges from INR 30,00,000 to 50,00,000 in various posts like Vice president, Project Manager, Senior Director, and Assistant General Manager.
Job Opportunities and Salaries for Six Sigma Certified Professionals
For acquiring Six Sigma certification, experts can upgrade their professions in the following fields:
Continuous Improvement Specialist
Mechanical and Manufacturing Engineering
IT Project Management, Process
Quality Assurance Engineering
Operational Excellence Manager
Lean Six Sigma master belt certification
Two more ranks are attainable
Master Black Belt
Level 3 credential
To attain a Master Belt credential, a professional needs to have additional project work in a Black Belt capacity only, and they need to have 1460 days of industry experience in managing projects or assignment-related tasks while holding a Six Sigma Black Belt credential. This six sigma certification course is 60 hours of a live online interactive session with major subject coverage.
Six Sigma Master Black Belt Certification Admission Process
Admission to both the online and offline courses is done through online mode.
Through directly visiting the websites and after filling in all the details one can get enrolled in the course.
For the mastery level of Six Sigma, the official CSSC Lean Six Sigma Master Black Belt Certification requires an exam and a project from the candidate.
The exam consists of 150 questions which are of the open-book format in 4 hours. The questions are of MCQ and True/false based through both online and offline mode for INR 48,792.78.
The candidate will get only 3 attempts to pass the exam within a year and to pass there should be a score of 540 points or higher out of 600 points.
Once the exam is passed, the candidate needs to submit 3 completed Six Sigma Projects following either the DMAIC or DMADV Methodology.
Job Options After Six Sigma Courses
Data Analyst A Data Analyst gathers and stocks data on market research, sales numbers, logistics, or other behaviors. They get technical know-how to ensure the value and accuracy of those records, then process, design, and showcase it in ways to help individuals, businesses, and companies make better decisions.
Business Optimization Specialist
A Business Optimization Specialist manages the everyday activity and analyzes the process of optimization in a business in order to improve the overall organization performance. He/she manages the performance of other staff members to achieve a particular target.
Senior Business Analyst
A Senior Business Analyst is a person who provides strategies after analyzing business services from a business partner. Their target is to gain an in-depth understanding of the customer's business strategy, approaches, operating system, etc and accordingly address the challenges.
System Analyst
System Analyst is primarily accountable to analyze and strategize possible techniques to solve business queries with the help of IT. They analyze the working of the software, hardware for the business needs of the employer or client.
Engineering Manager
The engineering manager is the person who supervises the staff engineers, scientists, and technicians, who are involved in the designing of machinery, plan and develop civil projects. They organize and coordinate the quality assurance, Production, and maintenance of the system.
Six Sigma Courses Skills Required
Companies that are hiring professionals are always interested in having maximum skills that can help them improve the conditions of the business. Some of the skills required for a job related to Six Sigma are:
Decision Making
Data Analysis
Communication Skills
Knowledge of Business Process
Leadership
Ability to Manage Budgets & Resources of the Company
Good writing and presentation skills
Why Six Sigma Certifications?
Six Sigma certified individuals usually fall into the $100,000+ pay brackets and are amongst the highest-paid professionals globally. Six Sigma certified individuals are more likely to be hired, ensure a customer, investor, partner stakeholder, as well as an employer, that the individual is going to bring nothing but the best quality to the table. Lean and Six Sigma – that have been brought together to accelerate business improvement.
Six Sigma Certification History:
Motorola pioneered Six Sigma, setting a "six sigma" goal for its manufacturing business. It registered Six Sigma as a service mark on June 11, 1991; on December 28, 1993, it registered Six Sigma as a trademark. In 2005 Motorola attributed $17 billion in savings to Six Sigma.
Honeywell and General Electric were also early adopters of Six Sigma. As GE's CEO, in 1995 Jack Welch made it central to his business strategy, and in 1998 it announced $350 million in cost savings thanks to Six Sigma, which was an important factor in the spread of Six Sigma (this figure later grew to more than $1 billion). By the late 1990s, about two-thirds of the Fortune 500 organizations had begun Six Sigma initiatives with the aim of reducing costs and improving quality.
In recent years, some practitioners have combined Six Sigma ideas with lean manufacturing to create a methodology named Lean Six Sigma. The Lean Six Sigma methodology views lean manufacturing, which addresses process flow and waste issues, and Six Sigma, with its focus on variation and design, as complementary disciplines aimed at promoting "business and operational excellence".
In 2011, the ISO has published the first standard "ISO 13053:2011" defining a Six Sigma process. Other standards have been created mostly by universities or companies with Six Sigma first-party certification programs.
Methodologies
Six Sigma projects follow two project methodologies, each with five phases.
DMAIC is used for projects aimed at improving an existing business process
DMADV is used for projects aimed at creating a new product or process designs
DMAIC
The DMAIC project methodology has five phases:
Define the system, the voice of the customer and their requirements, and the project goals, specifically.
Measure key aspects of the current process and collect relevant data; calculate the "as-is" process capability
Analyze the data to investigate and verify cause and effect. Determine what the relationships are, and attempt to ensure that all factors have been considered. Seek out the root cause of the defect under investigation.
Improve or optimize the current process based upon data analysis using techniques such the design of experiments or mistake proofing, and standard work to create a new, future state process. Set up pilot runs to establish process capability.
Control the future state process to ensure that any deviations from the target are corrected before they result in defects. Implement control systems such as production boards, visual workplaces, and continuously monitor the process. This process is repeated until the desired quality level is obtained.
DMADV
Also known as DFSS ("Design For Six Sigma"), the DMADV methodology's five phases are:
Define and design goals that are consistent with customer demands and the enterprise strategy.
Measure and identify CTQs (characteristics that are Critical To Quality), measure product capabilities, production process capability, and measure risks.
Analyze to develop and design alternatives
Design an improved alternative, best suited per analysis in the previous step
Verify the design, set up pilot runs, implement the production process and hand it over to the process owner(s).
Conclusion
Six Sigma certification course is worth the time and a value for money course. Six Sigma certification gives a boost in the career.
The six sigma certification course has brought about drastic changes in the career of people. Six Sigma works in the following fields:
process improvement
quality assurance of the products
and eliminating errors in the system
Individuals having their qualifications in this play a major role in industries.
The complete process workflow starting from theoretical preparation till the practical completion of the process is worked and reworked upon, corrected, and implemented righteously.
Working on different projects practically gives the confidence to work in the industry efficiently. Six Sigma being implemented in almost all the industries like manufacturing, finance, healthcare, IT, and the military gives you a wider range of options for jobs and experiences.
Recommended reads
FAQs
Q1.What is Six Sigma Certification?
Six Sigma (6σ) is a set of techniques and tools for process improvement. It was introduced by American engineer Bill Smith while working at Motorola in 1986.
Q2.What are the pre-requisites for Six Sigma Certification?
The Lean Six Sigma Green Belt training and certification can be attended by any graduate or working professional. The only pre-requisite for the Lean Six Sigma Green Belt training and certification is that the applicant must have gone through the pre-study material shared upon registration.
Q3.What are the benefits of Lean Six Sigma Certification?
The various benefits of Six Sigma Certification are:
1. The perfect foundation for anyone who wants to excel in a process-oriented industry
2. It opens numerous career opportunities across different fields that include Manufacturing engineer, Quality engineer, Quality analyst, 3. Operational manager, Reliability engineer, Industrial engineer, Lean Six Sigma consultant
4. Develop project management skills to eventually lead teams
5. Become familiar with core change management skills
6. Gather the requisite skills to engage and manage with senior stakeholders
7. Improve your CV with a globally recognized certificate
Q4. What is the Duration of the Six Sigma Course?
The duration of the course varies according to the type of course, for online courses it ranges from a few hours to days, and for offline courses like in ISI it can be a few months.
Q5. Which Institutes offer Six Sigma Certification Course?
The list of institutes offering Six Sigma Certification is:
Henry Harvin
Coursera
Udemy
Skillshare and many more