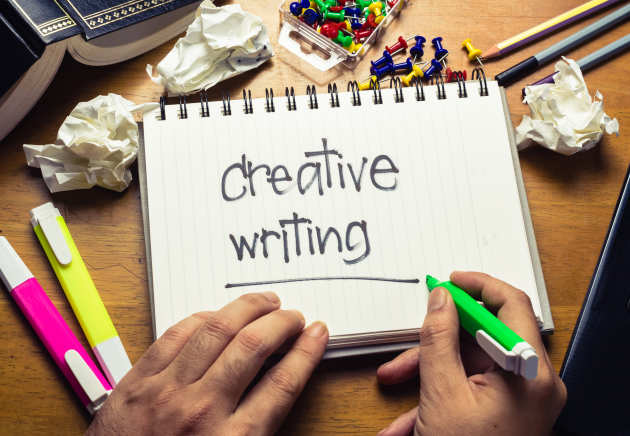 Writing in itself is a world of creativity. It is an art form where your words and the way you express them, steal the show. Very recently the field of writing has emerged into a gigantic world and hence entered the list of stable careers that one could choose. Earlier you had to give a second thought before making your final call. But the recent has not only explored the writing world but has also started acknowledging the ones who are good at it and thus writing has also emerged as a serious career.
When talking about beginning a career as a writer two most talked about and preferred job roles are Content Writing and Creative Writing. We have heard so much about content writing, creating, and marketing but rarely tend to open conversation on Creative Writing.
You will be glad to know that Creative writing is evolving as one of the most sought-after forms of writing these days. Aspirants are exploring numerous aspects related to Creative Writing.
But what exactly is Creative Writing? Is it just like Content Writing? No, Creative Writing is altogether a different aspect. It is more of how you feel, what you feel and how you choose to portray. Whereas Content Writing is especially a form of advertisement.
For better understanding, you can differentiate between them by keeping in mind that when we talk about Content Writing, it is more about writing advertisement copies. Whereas when we talk about Creative Writing it is more about writing Poetry, Personal Essays, Fictional & Non-fictional stories and similarly many more.
With the growing era, the number of aspirants wanting to pursue a career in Creative Writing is surging too. Therefore to excel in Creative Writing aspirants look for Creative Writing Courses that can train them with every minute detail which is very essential.
Always remember when beginning a career it is always better to step well prepared and trained. But a major setback that the potential Creative Writing learners encounter is finding courses that can be reliable, affordable and effective.
Choosing any random Creative Writing program can sometimes ruin your learning experience therefore one needs to be very particular with the choices he/she makes. But you do not need to worry anymore. Having understood the struggle that learners have to go through while choosing a particular course we don't want you to fall for the mishaps associated with it.
Therefore we brought you a top 10 list of Best Creative Writing Courses that you can easily trust and rely on. These platforms will acknowledge and polish your capabilities and will help you to be the better version of yourselves. So without delaying it any further let us just shoot right to the best Creative Writing Courses in India. Are you ready? Here we come!
Best Creative Writing Courses in India:-
1. Henry Harvin – Creative Writing Courses in India
Henry Harvin Education is one of the most booming EDtech platforms that is winning every conversation on quality learning and opportunity sharing. From technicals to creatives you get every single needed guidance just at your tip.
The institution has its platform spread to more than 7 countries and has successfully trained over 300000+ learners. What is more exciting about the platform is the opportunities that it shares with its keen learners. Most of the programs introduced here come with internships included. So it basically compiles theoretical learning along with practical internship opportunities.
Talking about the Creative Writing Courses offered here. When you look for Creative Writing here you will be introduced to two major programs.
Master Creative Writing Course
Creative Writing Course
So let us get into the details of Creative Writing and understand what the academy has to offer and guide us with.
Key Features:-
The Creative Writing Course at Henry Harvin Education comes with numerous key factors and even more benefits. So what are these key factors and benefits associated with the Creative Writing program? Let us find out together.
Creative Writing Course at Henry Harvin Education is ranked as the No.1 Course by Best Course News.
Moving ahead, the entire program will be thoroughly based on 100% Practical Training aspect and as a learner, you will be introduced to numerous crucial points associated with Creative Writing.
1 year Gold Membership of Writing Academy that will give you access to multiple projects, internships, job supports, recorded videos, brush up sessions, interview skills, career services and many more.
Grab globally recognised certification by Henry Harvin Education on successful completion of the program. The certification offered here is recognised and celebrated by organisations like
American Association of EFL
UK Certified
UKAF
Content Writing Association in India
MSME
Government of India
The well-structured syllabus here will shake the creative aspect of your brain and will train you to excel better at every thought and mention of ink.
Creative Writing Course – Henry Harvin ( Detailed View )
Creative Writing is adding words to your inner emotions. Words are your emoting language when pursuing a career in Creative Writing.
At Henry Harvin, you will be learning to explore these forms of ideas beyond the set notions of society. You will be expanding and enhancing your thought process, vocabulary and other associated terms.
When emoting your fiction, non-fiction, poetry, or drama you will be skilled at emoting it in the best possible way. You will here rise beyond the set thought process and embark on something special that is hidden within you.
This is something that the Creative Writing Course at Henry Harvin assures you.
9 in 1 Course:-
Pursuing your Creative Writing program at Henry Harvin is full of surprises and excitement. When you enroll for the course you receive numerous benefits and out of them the below mentioned 9 are the most crucial and celebrated ones. So let us find out what it is exactly.
You will be receiving 24 hours of Live Interactive Classroom sessions.
During your tenure of exploring the creative side of you, you will be exposed to numerous projects that will enhance and boost your capabilities.
As already mentioned, the major of the courses offered at Henry Harvin Education comes with internship opportunities to allow the learner to gain real-world experience. So similarly you will also be receiving internship opportunities during your program tenure.
After the successful completion of the program, you will be awarded with globally acknowledged and celebrated certification which will help you gain strong positions in your favourite firm.
You will be receiving 100% placement assistance for 1 year after successful completion of your program.
During your program tenure, you will be given exposure to numerous e-learning study materials.
Another exciting benefit is receiving Bootcamp sessions for about a year.
Free access to #AskHenry Hackathons and Competitions to keep your doubts in check.
Last but not least is receiving 1 year Gold Membership of Henry Harvin Writing Academy which comes with multiple benefits.
Weren't they all exciting and worthwhile benefits to avail? Of course, they were. Now let us keep going ahead and explore the learning benefits associated with the Creative Writing Course at Henry Harvin.
Learning Benefits:-
There are n number of things you can learn and explore at Henry Harvin Education when it comes to Creative Writing learning. Your very first learning benefit will begin by discovering and publishing your own voice. Having this understood will help you excel in your respective genre.
Numerous assignments will be given to you at specific intervals in order to push your inner self and identify your core strength. Moving further you will be introduced to various writing techniques, styles and specializations in order to make your writing compelling and readable.
Furthermore, you will understand the overall world of creative writing and what makes it so worthy. You will also be made one to one with the aspects of how to understand your own writing and finding the correct niche that will suit your genre perfectly.
As you progress you will be guided with multiple dos and Don'ts of effective writing so that your writing creates an impression right from the first word. These are some basic benefits that you will be availed here. There are a lot more than you will get to witness as you enroll in the program.
Takeaways:-
We always wonder what are the learnings that we will be taking back when we finish our program with the institution. And for effective guidance takeaways work like miracles. So you are surely going to take some after-course benefits. Find out the list below to know what they are.
After successful completion of the program, you will be an evolved Creative Writer who will be well known with all 4 major genres of Creative Writing.
You will hold a strong mastery over the writing process and techniques.
You will have enough knowledge about the digital platforms that will help you build and connect an audience you will be proud of.
The ability to find and deal with your shortcomings and strengths will be major takeaways after the course.
So don't wait too long to begin your career as a creative writer. Just head onto the website and enroll with the best guide, TODAY!
2. Masterclass – Creative Writing Courses in India
The masterclass is an enormous platform for people looking for the best Creative Writing Courses in India. The platform of Masterclass is a pure delight and one of the most engaging platforms where learning is fun, interesting and reliable.
The platform of Masterclass has some of the best trainers or rather say mentors from different corners of the world. These trainers come from extremely prolific backgrounds and hold commendable experience in their respective fields.
There are multiple creative writing or associated courses on Masterclass which the learner can choose as per his/her need. A session by Margaret Atwood on Creative Writing is simply breathtaking. Full of note-down points, extremely influencing stories and a lot of techniques/hacks to deal with aspects of effective writing.
As a creative writer aspirant, you graduate as an impact maker from Masterclass. For more detailed information or enrollment-related queries check their website, NOW!
3. British Council – Creative Writing Courses in India
The British Council is dedicated to providing multiple writing courses to aspiring writers. The platform is truly trustworthy and reliable for any and every aspiring writer who wants to begin a career in Creative Writing.
The course is programmed for 36 hours and would bind up within 9 weeks. The course is extremely cost-effective and is a great package to avail for as a beginner. When you look for Creative Writing Courses on the platform it provides you with a variety of options to choose from.
Choosing your Creative Writing Course with the British Council will help you develop and boost your own unique voice while writing. It will also encourage you to think beyond any boundaries or boxes.
You can also request a call from the professionals assisting here and get every query well resolved. For more detailed information and enrollment-related queries please check the website.
4. Indira Gandhi National Open University – Creative Writing Courses in India
Indira Gandhi National Open University is established by the Government of India and is filled with numerous career-changing courses that lead learners to greater heights.
Creative Writing is one such course that the institution provides with utmost sincerity and responsibility. You as a learner will be learning numerous aspects of effective creative writing and will be able to implement it in the real writing world.
The major focus will be driven to the thought process you indulge in while putting down your thoughts to paper and later will be shifted to effectively plotting those creative ideas before your audience.
The cost of the course is extremely affordable so that any and every aspiring writer can avail and begin their career in the writing field. For more detailed information and enrollment-related queries please check the website.
5. Writer's Digest University – Creative Writing Courses in India
This truly is a beginner's platform whereas as a learner you can learn and explore multiple aspects of writing. Creative writing is not just writing but is an exploration in itself and your Writer's Digest University truly understands that.
Learning here is exceptionally fun as each and every terminology is introduced here in the best possible way under the supervision of the best trainers from the globe.
The platform has put down several genres of creative writing separately in order to ease the learning process of the learners. The course briefly touches every direct or indirect aspect of writing and helps you transform yourself into a responsible and effective visionary author.
In case of any query or confusion related to creative writing head onto their website to get the best assistance, NOW!
6. Xavier Institute of Communication – Creative Writing Courses in India
Xavier Institute of Communication the Autonomous University in Mumbai is a fun place to learn and explore. There are ample creative fields you can explore here.
Talking about the Creative Writing Course offered at Xavier Institute of Communication, it offers you 8 sessions which compiles 2 hours of daily learning. During the course tenure, you will be having your hands on several writing exercises and will receive critique pieces by professional and fellow writers on the same.
After the completion of the program, you will have a strong understanding of writing and presenting your piece of creativity. You will be introduced to several genres and will be briefed to tackle each one of them effectively.
You can download the brochure or request a call from the professionals and get briefed about every minute detail of the course for better understanding. For more detailed information and enrollment-related queries please check the website.
7. Udemy – Creative Writing Courses in India
Udemy tends to never disappoint its learners. They have it best and they know it best. As a beginner, if you are looking for a Creative Writing Course that can shape your overall career then Udemy is surely your spot.
From providing the best cost deals to giving you lifetime access to the study materials, Udemy surely has your needs taken care of. When you hunt for Creative Writing Courses at Udemy you find numerous courses presented by numerous experienced trainers that give you a comprehensive idea about the subject you wish to explore.
Talking about the Complete Creative Writing – All Genres – The Full Course is a combinational program that comprises all your basic writing genres i.e. Fiction, Poetry, Drama and Creative Non-fiction.
The course is designed for 12 hours and consists of 145 downloadable resources. After the completion of the program, you will be awarded a well-recognized certification that will help you seek new opportunities.
For more detailed information and enrollment-related queries please check the website.
8. Coursera – Creative Writing Courses in India
Coursera has numerous Creative Writing Courses in its kitty. When looking to explore the best creative writing courses, Coursera is something you just can't miss.
You receive a Shareable Certificate, 100% online, Flexible Schedule and highly experienced trainers that will be effectively guiding you and supervising you throughout your course tenure.
Moving ahead when you head onto their website you find every minute detail for each course you wish to enroll for. Having that glance gives you an idea if you should be enrolling in the program or not.
Thus, there is extreme transparency between the course and the user enrolling for it. For more detailed information and enrollment-related queries please check the website.
9. Sri Aurobindo Centre – Creative Writing Courses in India
Sri Aurobindo Centre For Arts & Communication is a HubSpot for potential part-time and full-time courses that are based in Delhi. It offers numerous courses and the Creative Writing Course is one of them.
The duration of the course is for 3 months and the mode of learning is online. The course can be enrolled by anyone who is above 16 years of age and wants to begin a career in writing.
The major highlights of the course are that you will be trained or rather say guided to develop imagination, build interesting characters, improve your way of communicating and expressing.
You will also be introduced to a variety of writing styles that will shape your overall understanding of the writing world and will allow you to avail yourself of global and better opportunities. In case of any query or confusion, you can always check their website for assistance.
10. Oxford University – Creative Writing Courses in India
The name in itself speaks volumes. One of the most reputable institutes and a dream for a lot of us offer numerous Creative Writing Courses online that you can be availed of within the comfort of your home.
The course is very well structured and gives you every crucial information required before you convince yourself to enroll in the program. As a beginner, the course will shape you into the best version of yourself. You will yourself feel the change and confidence in your writing style and the thought process you will be using to emote your expressions.
Every tiny detail about Creative Writing and associated terms are covered throughout the program in order to give you the correct gist of the writing world. The certification that you will be awarded will add weight to your CV and will help you get your way to your favorite firm.
For more details on understanding the curriculum and other factors associated with it, you can head onto their website and get it assisted right away.
Final Words:-
Don't let your creative site settle for anything less. Give it the right kind of boost and molding. How do we do that? By allowing yourself to learn and be guided by professionals who are doing extremely well in a similar field. Where do we get these professionals? Right in the institutions of the mentioned list above.
When beginning a career in writing or in anything, never restrain yourself from educating yourself about it wholly. It not only makes you feel confident and known to the work environment but also opens opportunities that might seem hard in the beginning.
Therefore, a course is mandatory when beginning a creative writing course. Well, now that you have the list of best Creative Writing Courses in India, we guess you are sure to make your responsible move and begin the journey of a writer super soon. Wishing you tons of luck for the same.
We hope this piece of information helped you find answers to your questions effectively. If in case you still have any doubts or questions on the above-discussed subject then please feel free to voice it using the comment section below. We will get back to you at the earliest possible with the best knowledge available on the same.
Thank you.
Happy Reading! Happy Learning!
FAQ:
Q1. Can take medical writing in an online mode be useful for me?
Ans. Yes, an online Medical writing certification course may be a convenient and versatile program and might be done from any place around the world. One will simply access the web sessions through varied smartphones or tablets or laptops. The medical writing certification course is primarily trainer based too. The scholars are trained by skilled trainers.
Q2. How do I become a licensed medical writer?
Ans. Medical Writers don't have to hold a degree in medicine or science. Medical Writers can have various academic qualifications. However, to become a competent medical writer they have to have information concerning the medical nomenclature and ideas. Several institutes provide Medical writing courses. One can enroll themselves to learn how to easily communicate scientific information so that the non-medical audience can grasp it easily.
Q3. What are the different sorts of medical writing?
Ans. Medical writing can be classified into two kinds: Regulatory medical writing training and Educational medical writing training. Regulatory medical writing course includes writing documents for regulatory agencies seeking approval for devices, drugs and biologics. Educational medical writing course deals with writing documents about biologics, devices and medicine, especially for general studies.
Q4. I am a doctor. Can I become a medical writer?
Ans. Yes, a doctor can become a medical writer. Doctors are extremely knowledgeable and capable of assessing the accuracy of medical information. They can contribute by writing articles, blogs, stories for client-based online portals, print magazines and blogs. They can also write for a professional audience by submitting their articles in medical journals.

Q5. What expertise does one need to become a medical writer?
Ans. Skills that a medical writer should have been
. Domain knowledge
. Knowing the target audience
. Good writing skills
. Maintain accuracy, consistency and security of data
. Keep oneself up to date with the latest developments
. Good listening skills for problem solving, negotiation and decision-making
. Able to use a well-thought-out search strategy, suitable keywords and a variety of sources when researching.