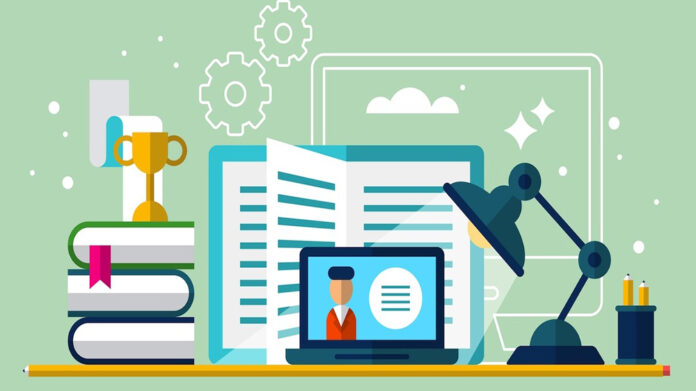 EdTech is an abbreviated term for Educational Technology. The education is delivered via technology using hardware and software to the learning aspirants. The Ed-tech terms involve terms like distance learning, remote learning, and online learning. Ed Tech companies provide training, assessment, and provide certificates to showcase the learning. The advantages of Edtech can be listed as
The training can be attended at their place, time, and convenience.
It gives flexibility to students as they can learn at their phase.
It provides different forms of learning like audio, video, books, and resources. The students can learn from their preferred format.
It provides flexibility to students.
It helps individuals who are full-time employed, and attending university training can be difficult.
It provides cost-saving learning compared to the cost incurred while attending universities, colleges, and other educational institutions.
The list of EdTech companies found in India are:
1. Byju's
Byju's is an online comprehensive learning program and classes for students. The learning is provided in video lessons, by India's best teachers and enables students to create personalized learning journeys. The advantage of learning from Byju's are
Providing conceptual clarity through visualization
Provide personalized learning programs
Personalized personal attention to children.
Byju's have become popular among kids and parents as there have been 100+ million downloads, 4.7+ star ratings, present in 1701+ cities worldwide, and the average min spent is 71 mins daily. Byju's covers various courses on different state boards, kids learning, exam preparations, free textbooks, and other coachings like IAS coaching, JEE main, ICSE, IAS, JEE, NEET, and many more.
2. Henry Harvin
Henry Harvin is known as a Global company in Edtech based out of India and the US with customers over 97+Countries. They are ranked among the top 500 Edtech companies globally and within the Top 100 in India. Their business verticals include Public programs, Corporate programs, Skill development programs, colleague programs, consulting services, assessments, and books.
Henry Harvin has trained 3,00,000 +, has received 2000+ reviews, conducts 700+ classes per month, and has a customer base in 97+ countries. They have alliances with 110+ colleges and 180+ corporates. They have various institutional clientele and corporate clientele.
3. Vedantu
Vedantu is a personalized tutoring platform. Vedantu is known as the first choice for students aspiring to top in exams. Vedantu has the best teachers, provides adaptive learning, is convenient and safe, and the classes are live and interactive. They have a student base of about 46,838,168+ and have delivered 24,931,929+ learning hours. Vedantu can be found in 500+ cities worldwide. Vedantu provides year-long coaching structured for a year for classes like CBSE, JEE, NEET, and ICSE Board. They provide help with free study materials including NCERT solutions, question papers for the previous year, and important questions and answers.
4. Unacademy
Unacademy is known as India's largest learning platform. Unacademy started in 2015 from the youtube platform, and it was established as an ed-tech company in 2015. They help students to prepare for competitive exams and classes 6 to 12. They offer daily live classes, practice, and revise with mock tests and offer to learn anytime and anywhere. Unacademy offers 60+ exam categories with 14k+ Educators and daily live classes with 1.5K daily classes on the live platform. Unacademy provides 1M+ video lessons and has 3.2B+ minutes of watch time.
5. UpGrad
The Edtech Upgrad started in 2015 due to the need for professionals emerging in society to upskill and learn. There are 20,00,000 registered learners with upgrad. The placement services are provided with the highest salary which was offered is 73 LPA INR, with over 300+ hiring partners. Training is provided by 700+ experts. They offer various courses ranging from IT, Law, management, health, and many more.
6. Whitehat Jr
Whitehat junior is on the mission to empower generations to become creators rather than just being a consumer of technology. They teach fundamentals of structure, coding logic, sequence, and algorithm thinking. These learnings help them to generate creative animations, websites, and apps. Whitehat Jr has about 11,000 registered teachers, 12,700,000 registered students with a total of 8,700,000 classes taken. They offer personal teachers on live and online classes. The courses offered are coding, syllabus based and skill development.
7. Collegedunia.com
Collegedunia.com is a search engine for students, parents, and education institutions. They provide relevant information on colleges and universities. They hold a repository of 20,000+ colleges and 6000+ courses, and their heir journey includes 250 exams and 30,00,000 monthly visits. Collegedunia assists in identifying the best college, exploring various exams, getting the latest news and reviews, college predictors, education loans, learning top courses, and getting admissions in colleges. They offer services in various fields of education like engineering, medical, science, animation, design, mass communications, and many more.
8. Extramarks
Extramarks pedagogy is based on learning, practice, and test. Extramark offers adaptive learning, unlimited doubt solving, and provides customized worksheets. They offer reports and analytics. You get customized guidance from an academic guru and a personalized journey of learning. Extramarks offer interactive education with exploration, immersion, and experience. They offer various courses like school courses, foundation courses, and JEE and Neet courses. They have a combination of live classes and learning apps.
9. Coursera
Coursera offers learning without limits. They have collaborated with 200+ universities and companies. They offer flexible, relevant, affordable, job-relevant training. They provide hands-on project training, job-ready training, certifications, and degree programs. Coursera has 82 million learners around the world. They offer anywhere access to the courses. The learning categories include data science, business, social science, computer science, IT, health, personal development, arts and humanities, language learning, physical science, maths, and logic.
10. Cuemath
Cuemath provides Master's math and coding classes. The curriculum is accredited by STEM.org. They have been offered India's best math program. The student base includes 2,00,000+ students, present in 20+ countries. The curriculum is highly visual, logical, and compliant. Cuemath works for 60 mins which provides 2+ times per week. They provide a leap platform and 1:1 live interactions. The fees are flexible and transparent based on the plans.
11. Brainly
Brainly helps you to go from questioning to understanding. Brainly is known to be a community with 350 million students. Brainly, as a community, supports students to share and explore knowledge. Brainly works on a principle where they motivate students to stay curious to learn and grow. They help students to Aim high to strive for better. They lend hands to students and help them. The learnings are delivered with quality Brainly inspire, engage, develop and deliver high performing teams.
12. McGraw Hill India
McGraw Hill is a committed platform to create innovative learning solutions and professional development. They help in higher education, test preparation, and professional learning. McGraw Hill is currently celebrating 50 years in India.
13. Mycaptain
MyCaptain aims to empower young students to choose the future they want to. MyCaptain has achieved over 1K institution partners with 100K+ student impact. They have 150+ young mentors and are a community of 10K+. They offer courses where students can learn 40+skills. MyCaptain offers live courses with experts and provides internship opportunities on the completion of the course. They offer industry-recognized projects and certifications along with LOR.
14. Quizizz
Quizizz is an engaging platform for learning. They have over 10 million students, and half a billion questions are being answered every month. Quizizz supports millions of students in 100 countries. Engaging on quizizz is easy, you can add quiz and poll questions, participants can join from any device, and feedback can be provided instantly.
15. Classplus
Classplus is on its mission to digitize education in India. Classplus is a modern digital platform, They have helped 1lakh+ coaching institutions and have 600+ experienced professionals. The best feature of classplus includes Self online courses on the app, live classes are provided, Video lectures, and marketing dashboards. They also offer online assessment, AI-powered leads, and their website.
16. Toppr
Toppr is on a mission to provide personalized learning. They have about 23,678,294 students with 994,487,989 questions attempted, about 30,064,156 doubts answered and 13,575,848 tests taken. Toppr is available in 25 cities in India. Toppr covers classes from 5-12 classes for 22 boards and 58 exams. They offer learnings with adaptive practice questions, solutions, videos, and concepts to provide 360-degree learning. The values of toppr are To have happy customers, innovation, integrity, relentlessness, speed, efficiency, excellence, empathy, nurturing, and openness.
17. Great Learning
Great learning is India's most trusted education platform. They provide personalized learning and guidance and have completed about 1,00,000+ mentorship sessions with 1:1 program support. They have completed about 30 million + learning hours and have reached 140+ countries. The inception of great learning was started in the year 2013 and delivered its first program in 2014. They provide career support with 1200+ hiring partners and 8000+ career transitions.
18. Udacity
Udacity offers the latest digital skills within reach. They have crossed 10years and have their courses delivered online. These courses include hands-on projects, mentoring, and quizzes. The network is about 1400+ mentors, project-based learning, personalized project feedback, curriculum partners, and expert instructors. Udacity has graduations completed for about 1,00,000+ with industry experts of 200+ and 100+customers worldwide.
19. Educart
Educart has 41,24,037+ students, 1.5Lac + teachers and 1000+ books in the catalogue. They have high-quality books for children from nursery to class 10th. Their academic and teaching resources have an impact.
20. Dreambox
Dreambox helps students achieve their dreams. Their maths program supports building confidence, intelligently adaptive learning, curriculum, standard alignment, functional screen time, see into the future. Dreambox is a K- 8 education solution to transform the way students learn.
21. Embibe
Embibe is known as a powerful education platform for school competitive exams and has delivered learnings about 19,593,500+. They follow a strategy of learning, practice, testing, and achieving. They provide personalized learning, a Coursebook, and problem-solving questions paper, the test, and the end outcome is achieved. Their knowledge graph tracks gaps from different grades and provides learnings to bridge the gap.
22. Dost education
Dost education was started during the time of covid. They have reached 60,000+ families to deliver home learning facilities. The learnings are delivered through the audio mode. They support low-income families to learn through the digital platform.
23. Meritnation
Meritnation is a portal that provides interactive study materials for students. Meritnation is the most loved online tuition due to its interactive classes, learning resources, practice questions, and 24/7 doubt resolutions. They offer services on pre-live class, live class, and post-live class. Their learnings are in short videos format, downloadable resources, and reference books for homework completions. They conduct tests and generate progress reports of the students. They have about 30.07,56,081 questions attempted, 2,04,01,260 tests taken and 27,42,385 doubts resolved.
24. Study N Learn
Study and learn is the smart way to study as they offer Huge question banks, HD animated videos, Interactive tools, revision, and Mentor support. They have about 1,00,000 active users, 6000 schools, and 50,000 educational modules. The curriculum is based on the aspect of the watch, revision, and practice, and the content is mapped to all the state boards and CBSE across India.
25. Gradeup- now known as Byju's Exam Prep
Byju's Exam prep which was formerly known as Gradeup is a comprehensive application for exams. They provide support to students by end-to-end preparation of exams. The online class program by top faculty, Comprehensive study material is available, and the latest pattern of test series. They have about 3corer + students registered with them, have 2.66cr+ video classes delivered, 2.37cr+ mock test attempted, and 331cr+ questions have been attempted.
26. Adda247
Adda247 is ranked as No one in the test preparation learning app. They offer an online learning platform to government job aspirants. The learnings are provided in the form of on-demand videos, online live classes, mock tests, ebooks, and books. The learning cycle includes beginning to final selection. The student base is about 40 million+ and has 450+ centers across India.
27. Jungroo Learnings
Jungroo learnings provide AI-powered learnings including assessment, evaluation, and practice. They had about 80163+ assessments, 1210253+ evaluations, 149192+ practice questions and 13360+ students. Their products include Jungroo assessments, Maths buddy, and adaptive platforms.
28. Akash EduTech Private Limited
AEPL is the abbreviated term used for Akash Edutech private limited is known as India's number one test preparation platform found online. They provide live online classes, recorded videos, online practice tests, and lectures. AEPL offers well-researched content, highly qualified teachers, technology, and a great learning experience. They help in the preparation of JEE, NEET, and competitive exams.
29. Doubtnut
Doubtnut is an online platform for doubt solving in the area of Physics, chemistry, biology, and maths in one location. Doubtnut provides instant video solutions and has the largest library of videos. They assist in chapters doubt solving for classes 6 to class 12
30. AskIITians
AskIITians provide a personalized learning journey by providing a flexible learning schedule that fits the student. The programs are delivered in the mode of the live online classroom, discussion forums, tests, and recordings. They help students who are IIT aspirants. They also help students from IIT JEE, NEET, and CBSE with query handling and providing resources.
Conclusion:
Edtech can be dated back to 1960, where the experiments and trials were conducted to teach subjects like maths and spelling to students, using the computer. Edtech has increased with the spread of internet connections and it being accessible to many people. By 2010, many people had started taking online courses. There were many inventions and launches made since then to make the learning effective, interactive, and direct communications. The above mentioned are a few top Edtech companies in India and there are a lot many.
Edtech can provide the core learning or support the learning made from colleges and universities. Edtech can prepare students to give exams and also help in assessing the students. EdTech has boomed in the pandemic times, where students, parents, and teachers leveraged the online platforms to provide education from their home being safe. New startups and new technologies are being introduced in this field. Edtech can be in various formats and modes. They are provided by audio, videos, e-books, games, interactive modes, chat rooms, instructor-led, self-paced, and many more.
Frequently asked questions
What different types of Educational Technology?
There are three types of educational technology like

Synchronous and Asynchronous 
The learnings are like Self paced learning and can be instructor-led training. It is blended learning involving distance education and face-to-face training. 

Synchronous learning: It refers to the exchange of information between trainer and participant at the same time. Students work closely, collaboratively and encourage peer-to-peer learning. Examples are Face to face conversations, chat rooms, virtual classrooms, and many more.

Asynchronous learning: This is an indirect form of learning by students at their convenience. The students can listen to recorded courses again or read the resources to understand. Here the students can do other universities degrees, full-time jobs, and still complete courses based on their time. Examples are audio, video, discussion boards, emails, blogs, Wikipedia, textbooks, and many more.

Linear Learning:
In this type of learning the Computer Based Training (CBT) is utilized which is delivered via computers or devices like mobile phones and tablets. For example CD ROMS, Software and many more. The CBT is similar to that of Web-Based training which is delivered by the Web using the internet. 

CBT is an alternative method for textbooks as it delivers content in audio, video, and animated format. The CBT has opted for assessments, where the systems are used to calculate the scores and interactive mode. Example: Multiple choice questions, drop-down, and many more 

Collaborative learning :
Collaborative learning is delivered by using Computer-supported collaborative learning (CSCL). It encourages students and teachers to work collaboratively, discuss ideas and promote information

What is the difference between Traditional and Online learning?

Online Learning 
Online learning is delivered via online mode anytime and from any place. The learnings are completed at their own pace alone and individually with limited interaction. The source of information is via the internet. The prices are also less and flexible. You can also find free courses. The format of the content is various including videos, audios, E-books, etc.

Traditional learning
Traditional learning takes place in an offline mode based on the schedule and is non-flexible in time and place. They have an imposed pace to complete. Collaborative learning is a form of learning with and from others. The primary source of information is the trainer. There is extensive interaction. The prices are fixed and high. 

The participants can also choose the option of blended learning which is mixed learning of offline and online mode. They are instructor-led training which can be self-paced.

What are some challenges faced in EdTech? 

The students done receive immediate feedback from the instructor
Interaction with the trainer is limited 
It may require more time for the students to understand the concept as it is individual learning
It is based on technology requirements and it is important to learn basic techniques for accessing it 
Lack of motivation to complete the pieces of training 
What are some examples of emerging educational technologies? 
Various technologies are being used and invented in the area of education every day. As digitalization is increasing, the need for new technology is emerging. Some of the growing technologies are

Augmented reality 
Virtual reality 
Adaptive learning algorithms
Robotics
Artificial intelligence
3D Printing
Live stream
Asynchronous 
Microlearning
Social learning
Interactive games and Simulations 
Why is Technology required in the classroom?

Technology prepares students for their future careers
Help to support students with different learning styles
Promotes collaboration among students and teachers
Improves knowledge of using the internet correctly and responsibly. 
Involving technology in learnings helps students to stay connected, engaged, and motivated
Enhance the learning experience with technology 
It helps to access various information through the internet 
Technology help student to be responsible and stay dedicated
It brings in a different experience than the traditional method of learning
Technology enhances and transforms the learning experience. 
Technology helps in working together and collaboratively 
Technology provides flexible learnings and learning on repeat mode.