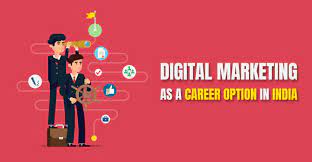 Digital Marketing is a booming industry these days. It has become the life of any business. The online presence of any company is as essential as a brain in anybody to function well. If you are one of them who are actively looking for a career in digital marketing, then I can say you will never look back once you are in.
Digital Marketing is very vast. It has a huge offering for you, depending upon your interest, knowledge, and experience. As a result of which it becomes a bit difficult for one to choose from so many opportunities.

As they rightly said, more options, more confusion!! So, here we are, to help you understand each option for a career in digital marketing. We will be sharing the right and clear information about Careers in Digital Marketing.
In this article, we will provide you with all the essential information which you need to kick-start your career in digital marketing. Make sure to check this link, if you are already in business and wondering about how to use digital marketing in your business.
But first, let's understand what is Digital Marketing?

What is Digital Marketing?

Digital Marketing is also known as online marketing. It is basically the promotion of different products and services to find potential customers using the internet.
But just to clarify, this includes not only email, social media, and web-based advertising, but also text and multimedia messages as a marketing channel.
Scope & Need of Digital Marketing in India
If you want to target an audience globally, showcase your products or render your services then this can only be done with the help of digital marketing.
You have a choice of advertising your products online. You can target audience criteria or remarket your ads specifically to people who show interest in the past. This was one of the many reasons why marketers shifted to digital marketing.
Moreover, since the pandemic (covid-19) hit the world, digital marketing was proved to be a boon for companies. May it be a small or large company the majority of them stepped into the digital marketing world. The reason being, it was one of the most effective ways to conduct marketing campaigns even when their customers were stuck at home.

This is just not the end, the speed with which companies are coming to this magical world, digital marketing was also emerging and there was no end to it. Digital marketing has truly helped many businesses survive and re-establish themselves in these tough times.
Considering all the various benefits which digital marketing offers to businesses, it became a need for every business more than a choice.

Creating an online presence and catering to the need of the consumers is necessary to survive the growing competition.
Going with the trend of the modern era and the increasing time people spend on their phones and internet, it was only obvious that companies had to shift their focus, in order to remain in touch with the audience. Now, let's understand who should opt? / Who can make their career in Digital marketing?

Who should choose for digital marketing?
As soon as you think about digital marketing, or making a career in digital marketing you must be surrounded by many questions like where you should start.
So here we are, to make it easy for you. Keep reading to know different career opportunities in digital marketing. As a result of this, you can decide which one is best for you. Because the beauty of digital marketing is that it has some of the other things for everyone.
If you are someone who loves to handle social media, then you can go for a social media marketing professional. Or, the one who is highly interested in coding, you can opt to become a web developer.

Those who have skills and passion for writing, then they can select content writing. For the ones who are interested in designing, graphic designers will be the best option for them. Data Analyst is for someone, who will be good at analytics. It is one of the most chosen career paths in digital marketing.
Digital marketing is a dynamic industry, one is expected to learn and be updated about the new technologies constantly to be a part of this race. So, if you think you have all the eligibilities for the same, then you're definitely suited for digital marketing.
Digital Marketing Skills in Demand
Considering the research and statistics, around 93% of all online interactions start with a search engine. This is a clear example of how important it has become to make SEO-friendly content. This will also help you to rank on Google as well as other search engines.

Primarily, ranking your website on the top of search engines appears organically & also by paid means. It is the best form of advertising for your business. If you are a master of skills like SEM and SEO, then it can increase your business ranking on search engines. Also, it can easily help you land a high-paying job as it is the need of the hour.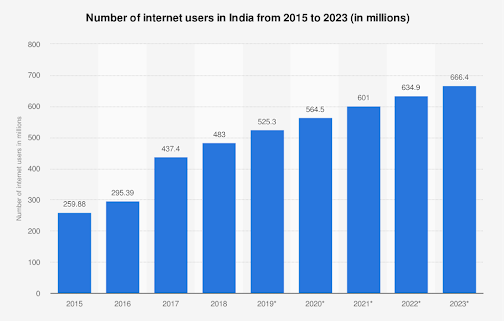 Now, let's straight dive to the Top 13 Career opportunities in Digital Marketing.
1. Digital Marketing Manager
Digital Marketing Managers and Strategists play the most responsible part for arranging, creating, carrying out, and dealing with the digital marketing methodology. Likewise, they are also responsible for overseeing, directing, and preparing digital marketers and other promoting positions in the organization.
Digital Marketing managers are also responsible for planning & managing overall campaigns to collate different components of digital marketing to make them resourceful and booming.
Experts in this field need to know all digital advertising regions. As marketing is the only way to reach your audience, it has to be unique in its own way.
Digital marketing managers are in charge of planning and managing marketing campaigns.
2. Search Engine Optimizer
Search engine optimization (SEO) is used to carry out the higher rank of your website on a search engine results page (SERP) so that you receive more traffic.
The basic aim is obviously to rank on the first page of Google results for any search terms which is the most important for your target audience.
Search Engine Optimization aims in making the website or a web page rank on the search engine's results. The one who is dealing in SEO has to work on analyzing, reviewing, and optimizing websites using natural SEO techniques.
For best results, one has to develop content with powerful and related keywords for increasing website traffic on your articles. SEO is a developing landscape as search engine algorithms are simplified/ restructured/ updated on a daily basis.
3. Social Media Marketer
As it is clear by the name itself, social media marketing is all on the subject of managing a company's presence across social networks that include Facebook, Instagram, Twitter, Linkedin, Pinterest, etc.
Social Media Marketing Specialists help to design and execute a complete social media strategy for a company. The responsibility of social media marketers is regarding creating a social media strategy, creating content.
Social Media Marketer has to conduct paid advertising on platforms like Facebook and Instagram to generate leads. They have to generate leads that can eventually convert into actual customers.
If you're someone who is interested to learn more about social media marketing then you can make your career in this field which will be a Career in Digital Marketing from a broader perspective.
4. Content Marketer
As the name suggests, content is an essential part of this job. Content marketing is all about creating content for the online world. It can be presented in the form of blog articles, videos, email newsletters, social media content, etc.
The key role of the content marketer is to create valuable content and distribute it across relevant channels. The made content should be in such a way that it can retain and attract an audience as well as increase website traffic.
As a content marketer one has to work on various tasks like managing a blog, creating drip campaigns, copywriting, guest blogging, PR, and video creation.
5. Email Marketer
Email is the traditional way of marketing. Yet it still remains one of the most valuable marketing strategies in the digital world. Statistics states that email marketing has a higher return on investment (ROI) than you can expect from any other form of marketing be it digital or otherwise.
Email is the medium that is quick, accessible, and cost-effective, which makes it a powerful tool for businesses to connect with people.
Considering the role of an Email marketer one has to focus on building an email list, creating personal and customizable emails. These emails can be modified to customer interests, thus, generating leads through written communication.
An Email marketer will also have to run campaigns, create different newsletters, and create awareness among customers about new products to promote the brand and increase customer acquisition.
6. SEM
Specialists in Search Engine Marketing are responsible for paid ads across all search engines and display networks. If numbers don't scare you and you have great analytical skills, this search engine marketing could be a great choice for you.
Search Engine Marketing Specialists make strategies for Ad campaigns, targeting the audience, the budget for the same, and the bidding to ensure that the ads reach the right people.
They write convincing ad copies which make the viewers engage and connect with the Ads. They also monitor the performance and make necessary adjustments accordingly. Learning Google Ads is an exceptional way to start a career in SEM.
7. Content Creator for AR- VR
Augmented reality content (AR) is the expertise that layers computer-generated images at the peak of existing authenticity. This technology blends the virtual and real worlds together in such a way that enhances them but still allows customers/users to tell them apart.
Virtual reality (VR) is an exciting medium with broad applications in entertainment, marketing, design, and more. Every small piece is flexible and dynamic. They are professionals who specialize in creating and adapting content for virtual reality.
VR content creators make use of two main methods to create VR content: computer-generation, wherein every part of the world is synthetic, designed, and integrated into an interactive experience using code; and 360-degree video, where the video is taken using an omnidirectional camera and reduced to create an immersive occurrence.
That is why marketers have to be ready to create content for AR and VR. These skills will help them get a kick start to use a technology that offers to make it very effortless to influence customer opinions.
8. SEO Specialist for Voice Assistants
Voice Assistants are used extensively today and their use is increasing constantly. Google Assistant, Alexa, Cortana, and Bixby have an ample range of capabilities.
If a customer is looking for a product or a service using these assistants, it is very important that your business gets suggested. So here comes the role of "SEO specialist for Voice Assistants" into play. The business which is at the top rank for search engines, the voice assistants will pick it up and tell the users about the same.
9. Video Production for newer social media platforms
Video production and marketing have rapidly become the innermost focus of every marketing strategy. Every business has the rule to push video content as they grab the attention of the users fast.
It is not only a source of entertainment anymore. Rather it is a powerful tool for promotion and lead generation, especially on social media platforms.
As social media platforms like Reels, Tik Tok, etc. comes up, brands have to be ready to attract consumers on these platforms.
Producers need to bring engaging content that would work on newer platforms. If you are an expert on these skills, then you can go for this career in digital marketing as they are going to be very useful in the coming decade.
10. Automation Expert
Digital Marketing automation is regarding using software and AI to automate digital marketing activities.
An automation specialist is an IT expert in developing and designing new software systems. It can be done by reviewing, repairing, maintaining, and testing systems to improve business operations.
Their basic/main focus is on performing analysis and research to determine the weakness and strengths of existing systems. Experts can develop knowledge and skills in this field and help various organizations manage, facilitate and oversee business automation.
Many companies will move forward towards automating repetitive tasks such as email marketing, social media marketing, and even ad campaigns.
As a result of which, it helps them to be efficient as well as helps them provide a more personalized experience for their customers.
As the technology of marketing automation is growing rapidly, digital marketers who are skilled to work as automation experts will control a high pay package.
11. Paid Media Specialist
A paid media specialist is accountable to bring traffic to your web portals via online advertising on platforms like Facebook, Instagram, Google, etc. A paid media specialist, need to have the best of both – a mix of a creative and analytical mind.
They need to be prompt in identifying which platforms would be best for reaching their audience. On the other hand, creative at the same time for their media buying skills to get the best optimization of input for greater output.
60% of the marketing budget will be allocated to digital spending. As a result of which it just adds to the fact that every digital team needs a specialist in paid media. Therefore, paid media is for sure a flourishing digital marketing career in 2022.
12. Data Analyst
The work of a Data Analyst comes into the picture when one needs to interpret data and turn it into information.
Data Analyst collects information from a wide range of sources and interprets patterns and trends. It is also one of the most technical digital marketing skills.
A data analyst is someone who thoroughly checks information using data analysis tools. They pull out the meaningful results from the raw data. It further, helps their employers or clients in making important decisions by identifying various facts and trends.
Some of the essential Skills for Data Analysts are as follows:
Structured Query Language
Microsoft Excel
Critical Thinking
R or Python–Statistical Programming
Data Visualization
Presentation Skills
Machine Learning
13. Web Developer
A web developer has to be updated with the various coding languages used. They need to have flair to create a functional and attractive website for the business
A web developer is a programmer or a coder who is specializing in the development of World Wide Web applications using a client-server model.
Web developers make and maintain websites. They are also responsible for the website's technical aspects, such as its performance and capacity. It is also responsible for measuring a website's speed and how much traffic the website can handle.
A highly skilled web developer needs to analyze information to ensure the content, graphics, and navigation provides a positive experience to the users.
The basic skills for a web developer are to have knowledge of computer software, HTML coding, and graphic design to create a website that has the best and most positive user experience and can help achieve business goals.
So, above mentioned were the top 13 careers in digital marketing! Keep reading, if you want to find out how you can start your own career in digital marketing.
How can I start a career in digital marketing in India?
So, after going through the entire 13 careers in digital marketing you must be wondering where to start your career. So, here are a few ways that can help you get started
As your first step, you need to start by learning a few digital marketing skills. Learning industry-relevant skills from a renowned institute is always the best and first step to enter into this field.
One of the top institutes which provide the best knowledge about Careers in Digital Marketing is Henry Harvin. You can surely check their Digital Marketing course and pursue the same for new career growth.
Please go through this video for an overview of the course by Henry Harvin
Another most important step would be to start applying for internships and freelance gigs. Apply to these internships. This will lay a foundation for your practical learning. Most of the skill-based application and learning will happen on the job.
Once you have gained good experience, then you can start building your portfolio to have a better digital presence. Also if possible try to create your own brand. In this way, you will stay updated with the latest digital marketing trends.
Apply to those companies in which you believe. Where you think you might be able to offer your best services. Do not forget to send personalized cover letters attached with your resume and portfolios.
Conclusion:
Digital marketing basically aims in promoting and selling products using multiple marketing channels on the internet.
Several digital marketing channels include social media networking, search engines, and pay-per-click (PPC) advertising. Digital marketing helps you to create leads, interact with them, convert them to leads into customers and retain them too.
Learning digital marketing can help businesses to build brand awareness. It is the basic step in finding new customers. A digital presence is helpful because of consumers' frequent use of mobile and digital devices.
FAQs
1.    Who can enroll for the Digital Marketing course?
Minimum qualification is a graduate from any stream. However, the institute must be recognized by the government under AICTE, AIU, UGC, etc. And maximum has no limits as you can pursue this course once you have developed a keen interest in a career in digital marketing.
2. What is the package of digital marketers in India?
The average salary of a digital marketing manager ranges between 5lakhs to 8lakhs. Again it will depend on your experience.
3. Is a Career in Digital Marketing good for me?
It totally depends on your skills and knowledge about that particular opportunity. Digital Marketing is a booming industry and it will be definitely a good decision if you get on the race.
4. What is the salary for a fresher in digital marketing?
The average salary for a Digital Marketing as a beginner level / fresher is about Rs 3Lakhs to 4Lakhs per annum. This will depend on various other factors like skills, organization, and city of work.