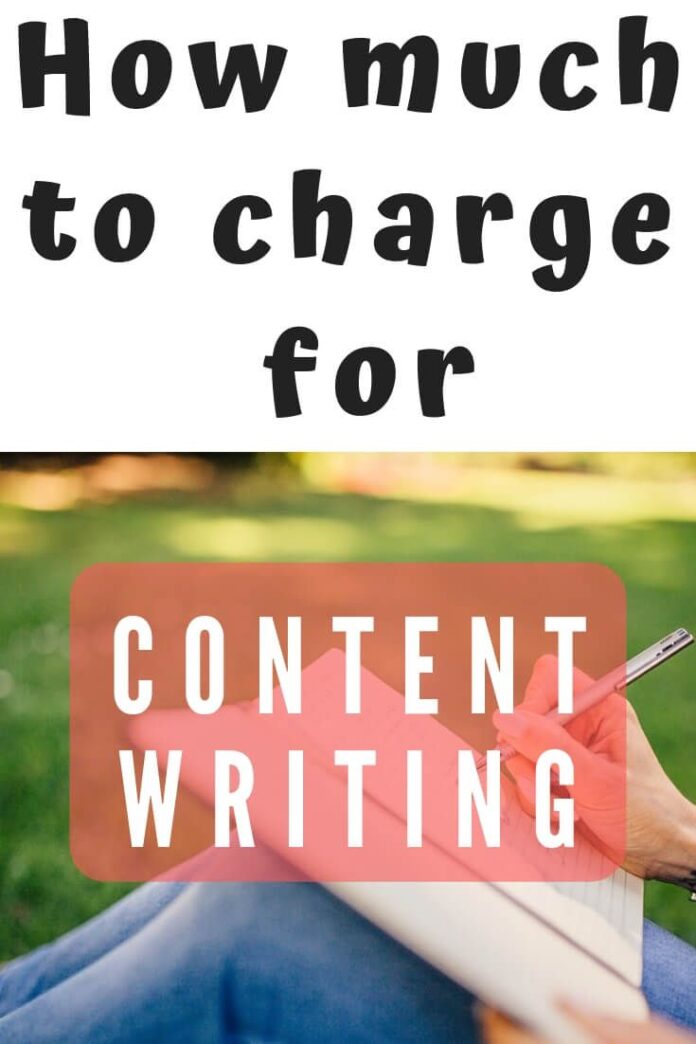 Average Content writer salary in India has always been a big question for those enthusiastic to start their career in content writing or who have just begun. Irrespective of how intense one is about writing content, the money factor strikes the mind before selecting it as a career option. After all, money is an essential factor in living life comfortably.
People often consider content writing salaries and how much content writers are paid annually before pursuing such a career. The field of content writing is quite sceptical depending upon how much one markets it, and so are the content writing salaries.
It is noticed that whenever average content writing salaries are searched, some highly accomplished people with considerably hefty salaries are presented with their experience. Now that discussing content writing salaries is just like any other job, wages may vary depending on challenges, tasks, and work difficulty level.
Content writing offers many roles for writers like freelance writers, bloggers, sketch, and scriptwriters, which is why salary variations could be seen. The hustle is hard in these professions with absolute risks, making it tough to keep earning consistently.
The Average Content Writer Salary in India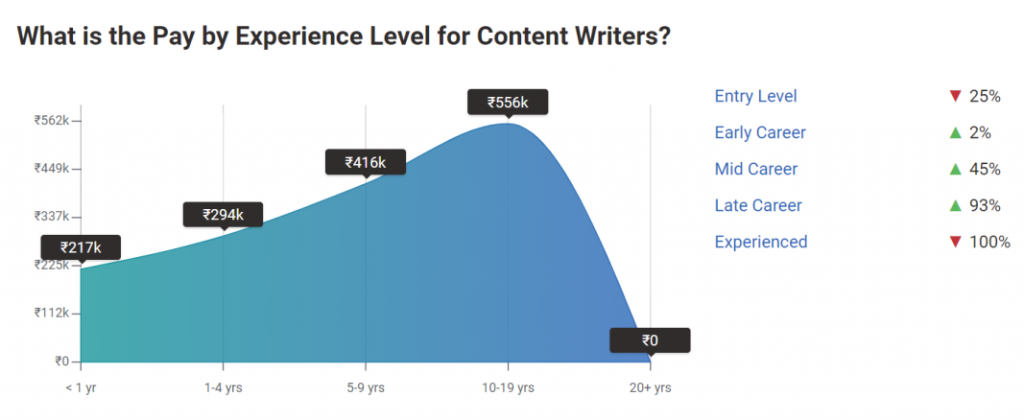 1. Freelance Writers
Payment of freelance writers is on two parameters. They are word count or per hour. These writers acquire their content writing salaries depending on the project they are working on.
Usually, people pick freelance writers to get their projects for the price per word written in a blog. The standard price per word also varies based on the number of words the employer would need regularly. Usually, the cost per word ranges from Rs0.15 or less to Rs0.30 for a fresher.
The other option is pay per hour, which means the freelancer has to commit a particular number of hours to a specific project. The average content writing salary for a freelance writer is Rs200 an hour. This could increase noting the experience and rating of a freelance writer. The projects are not long-term, so freelance writers have to find more clients to continue their work.
Some highly professional freelance writers charge as much as $100 per assignment they write. Most importantly, experience and talent marketing strategies help raise a freelance writer's content writing salaries.
The writer craves a keen knowledge of the content writing industry, and proper strategies offer to bring more freelance opportunities. In the long run, taking wise decisions in such a work process is very important.
Once accomplished as an experienced and highly demanding freelance writer, the options grow along with the content writing salaries. Therefore planning strategically would lift one to improve their average content writing salaries in India.
2. Bloggers
Every day people post Millions of articles. This gives a clear idea about how vast the industry is, along with the significant number of people in blogging. The growth of bloggers in India has been rapidly growing over the past few years, and that too in terms of salary. Bloggers are seen to have more consistent and decent reaching over Freelancers.
The blogger's content writing salary in India is fair, but one has to follow some marketing strategies to achieve that. Expecting the flow of sound money as a content writing salary would probably be the wrong process. The primary source of income on which the salaries of bloggers depend is advertisements. Further Indian bloggers can earn decent sponsorships, ads, and endorsements.
A blog must be at least six months old and popular enough to find endorsement opportunities. Adsense is one of the best options for bloggers to find paid ads. Adsense comes with a reasonable pay-per-click price and is a Google-supported service.
Getting traffic to the blog is essential for any blogger as that increases the chances of getting more ad clicks. Blogging essentially requires an audience. Finding a potential audience and growing it is a crucial part of blogging.
There is no specific range related to the average content writer's salary in India. Generally, it starts between Rs6000 a month to more than Rs1lakh per month. At the same time, some blogs are exceptionally profitable and make more than 20lakh annually.
Content writing salaries in blogging are pretty uncertain, and therefore, it is difficult to find a definite number for annual income. But an Average blog that makes money would earn between 2 to 7lakhs annually.
3. Sketch and Script Writers
Plotting scripts and writing sketches have a different format of payment for content writing salaries. This job needs a lot of patience; the sketch and scriptwriters may or may not have assigned projects.
They either work on someone else's ideas or use their creativity to write scripts and sketch. Later they present these scripts and sketch to media producers and directors. Therefore people passionate about writing scripts and drawing ideas recommend working for a particular media company that has multiple projects. This aids in searching for stable earnings as content writing salaries.
Unless and until one has gained enough experience and reputation, it is pretty tricky to find opportunities. It is challenging to select sketch writing as a career decision unless one is very intense and confident about it. Apart from these exceptions, this career comes with high-income value also. Finding opportunities is challenging; these opportunities could pay perfect money as content writing salaries.
How to Boost the Earning?
The content writing salary of a scriptwriter can vary too much and therefore be highly unstable. Scriptwriting usually covers writing scripts for screenplays, videos, documentaries, and movies and making enough categories for writers to work and earn. While the opportunities, initially, are less, if a writer is experienced enough and recommended, then some decent money could be made from this industry.
Pursuing a profitable career in scriptwriting and sketching demands a good set of creative and writing skills. Writing scripts and sketches need good vision. Even these professions involve some marketing practices to make work noticeable in the market.
As people are in an era of booming internet, having a social media presence where a short portfolio of previous and ongoing works can be presented would be very helpful in finding assignments and projects.
Experienced writers with high-rated profiles are more likely to receive projects. Working at lower prices initially helps the client understand the writer's work and allows more writing opportunities.
Along with time, scriptwriters, after gaining experience and reputation, can demand a lot of money as a content writing salary. Understanding and better ratings allow more extensive and better projects. An average scriptwriter earns between 2lakhs to 5lakhs whereas highly reputed writers make around 10lakh annually.
4. SEO Writer
Optimising content per to a search engine so that the article ranks fair on search engines like google is all an SEO writer has to do.
An SEO writer has to handle many duties, covering links, keywords, format, on-site SEO, off-site SEO, and much more. There is a huge demand for SEO writers in the digital industry. SEO writers can make more money than they imagine.
SEO writers are not general content writers; they use optimisation techniques to rank articles, pages, and websites. They are highly accountable for Google rankings, and the payment is also hefty. Their job holds so much responsibility, requiring proper knowledge and skills.
To maintain a higher rank of Google in competition with millions of other posts is very difficult, which is why the high content writing salaries given to SEO writers are worth their responsibility.
Depending upon their tasks, SEO writers can earn between Rs 3lakhs to even Rs 10lakhs annually.
5. Copywriter
Professional copywriters write almost all TV commercials, brand ads, and radio ads. Their primary job is to write content that tempts the customer to take any targeted service. That can inspire them to visit a link or purchase a product. Moreover, they also promote a lot with product marketing procedures.
Writers also create captivating product descriptions in commercials and also on shopping websites. They are highly innovative people with remarkable writing skills.
A career as a copywriter could be highly profitable in terms of content writing salary. Copywriters are one of the highest average content writing salaries in India. They can receive more than Rs 1lakh per month. The annual income of copywriters is Rs12lakhs as per the survey. This is because they are likelier to work with brands and famous companies.
Copywriters are responsible for the hot-selling tagline that the brand features can use. These copywriters write even attractive ads and eye-catching offers. The prime purpose is to hook the target customer to perform a targeted action by just reading texts written by them. The writer must be creative enough to write engaging content for brands.
Copywriting is one of the most highly paid jobs in the content writing world, with good content writing salaries. Content writing offers a lot of opportunities. Now that this industry has just begun achieving pace in India, there is ample scope for freshers and aspiring writers.
This industry does not restrict writing but has its way beyond that. Content writing is the main factor in the marketing and advertising industry. Even the audio-video media format involves content writing as a significant part of the industry.
How to Boost the Earning?
The demand for content writing could be felt in almost every industry, from corporate to the film industry. As it covers numerous industries, opportunities for writers also increase.
Because this industry is related to other sectors, there is a scope for earning goods because the money here flows from all the initiatives.
Content writing salaries can be outstanding if two things are taken care of. They are experience and skill. Holding patience and permitting the market to notice the skills a writer presents support one to boost their profile score for future opportunities in a content writing career.
One can make decent earnings as content writing salary depending on the kind of profession under this domain. The average content writing salary in India, especially for freelancers and sketch and scriptwriters, has the chance of earning good money as a content writer. This content writing compensation could be wisely used as an investment for further opportunities.
Investments like creating a portfolio website, maintaining social media presence, and own marketing profile are some essential things that could help one grow as a content writer.
Average content writing salaries in India are pretty non-uniform over other departments. The above facts, figures, and analysis detail how many content writers earn annually. The pieces were the average statistical data gathered from the internet.
Conclusion
Hopefully, you relish reading this article on average content writer salary in India and abroad. It delivers valuable insight into how much compensation you should demand as a content writer.
Upskilling is also essential when it comes to content marketing. 
Recommended
FAQs
Q1. What is the eligibility to become a professional writer?
Ans. There are plenty of short-term writing courses on the market. However, if you want to join as a professional writer, you should get a degree in journalism or literature.

Q2. What are the different types of jobs available for writers?

Ans. Copywriter, scriptwriter, blogger, SEO writing, digital content writer, ghostwriter, and more writing jobs are available.

Q3. Is writing a challenging domain?
Ans. Writing isn't a tricky skill to master. However, to generate exceptional quality, ongoing learning and improvement are required.